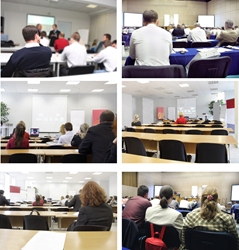 Learn Microsoft licensing best practices and maximize the value of software licensing investments
(PRWEB) March 09, 2015
Broomstick, LLC, is excited to announce their Microsoft Licensing Workshop, which will be held on April 20 and 21, 2015 in The Westin Peachtree Plaza, located at 210 Peachtree Street NW, Atlanta, GA. The workshop is designed for new or established IT Managers and IT decision makers, IT Procurement and Purchasing professionals, Software Asset Managers, Licensing Managers, and System Architects from small, medium and large companies to build or further develop foundational knowledge of Microsoft volume licensing, Microsoft product licensing, and procurement best practices through real-world licensing scenarios.
Having managed over 4,000 Microsoft software audits at companies of all sizes and industries, Broomstick's former Microsoft licensing and compliance professionals bring their 45 year expertise in a step-by-step, comprehensive training to help participants build and develop their software and license management skills that directly transfer from the classroom to the workplace.
The workshop covers Microsoft license types and licensing programs, Microsoft licensing agreements, concepts and terms, product licensing requirements including SQL Server, Windows server, Office, Windows client, Project, Visio, Remote desktop Services, SharePoint, Lync, Exchange, System Center, Developer products, O365 Online Services, Microsoft licensing for virtualized environments, licensing compliance and procurement best practices, licensing record keeping, software licensing audit procedures, license entitlement assignment, and licensing resources.
In addition, participants will learn how to best optimize their purchases by choosing the right product licenses and volume licensing programs for their organization's specific IT scenarios, how to implement licensing best-practices, and practices to reduce the cost of software ownership. How to get better control over software license usage and interact more effectively with software resellers and Microsoft is another key issue covered in the workshop.
"The 2-day workshop will provide participants with a compass and essential tools to navigate through Microsoft's complex volume licensing rules, concepts, products, and agreements," says Bruce Liley, the General Manager of Broomstick, LLC, who had left a successful 13-year career at Microsoft, where he managed the company's North America customer and partner compliance organization and developed a majority of Microsoft's customer and partners audit compliance programs. "The workshop is uniquely different than other available training and an opportunity to learn Microsoft volume licensing and solutions directly from independent Microsoft license experts through step-by-step practical and real-world scenario based training."
About Broomstick, LLC:
Broomstick, LLC, helps organizations reconcile and evaluate their software licensing and identify optimal licensing arrangements, product configurations, and pricing strategies to minimize the cost of software licensing. Broomstick is uniquely independent of Microsoft and software resellers and does not benefit from customers purchasing software. This means their focus is entirely on finding cost-effective licensing and software compliance solutions for their clients with no conflict of interest.
In addition to the Microsoft licensing workshops, Broomstick offers on-site licensing training and webinar licensing training. For an early bird and group registration discount and more information about the upcoming Atlanta Microsoft Training, please visit: http://broomstick.guru/microsoft-licensing-workshops/.