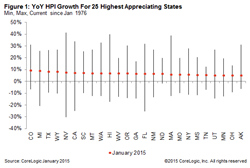 Mortgage applicants should appreciate current sub 4% rates.
Chicago, IL (PRWEB) March 07, 2015
On Friday, March 6th, lenders like Peoples Home Equity were very pleased to read that the U.S. unemployment rate decreased to just 5.5 in February, the lowest number since May 2008. While the report was uplifting about America's labor market, the effects were different for mortgage rates as market participants raised their expectation of a Fed rate hike.
According to the latest unemployment report from the U.S. Bureau of Labor Statistics, 295,000 jobs were added in February 2015, causing unemployment to decline for the 6th time in the past 12 months.
Among differing worker groups, the unemployment rate for adult men was 5.2%, 4.9% for women, 4.7% for whites, 10.4% for blacks, just 4% for Asians, 6.6% for Hispanics, and 17.1% for teenagers.
Overall, the unemployment rates underscored the progress America has made since the financial crises and recession ended. However, the effect on the stock market and mortgage rates was different.
MortgageNewsDaily.com highlighted the unfortunate effect the positive jobs report had on loans, saying, "Mortgage rates were more or less obliterated today." While the unemployment report was positive, the market reacted by thinking now that the labor market has improved greatly since the recession, a Fed rate hike will occur very soon.
Fortunately for prospective mortgage applicants, MortgageNewsDaily.com still shows on its "Daily Mortgage Rates Page" that the average contract rate for a 30-year fixed loan remains below 4% at 3.97%. However, Peoples Home Equity reminds prospects that the housing market is on the verge of spring, when activity begins to warm up. When the demand for housing increases cumulatively throughout the spring into summer, property listing prices become higher. Thus, mortgage applicants should appreciate current sub 4% rates across all home loan types and submit their applications soon to lock in a historically cheap rate.
If you are in need of a mortgage, contact a Peoples Home Equity loan officer today at: 262-563-4026.