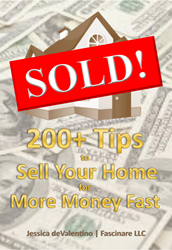 The typical FSBO home sold for $184,000 compared to $230,000 for agent-assisted home sales (NAR, 2013).
Houston, TX (PRWEB) March 10, 2015
As a special promotion, DeValentino Properties LLC is reducing its standard rate of 6% to 4.5%, which amounts to a $1500 savings per $100,000. A home selling at $500,000 receives a savings of $7500.
DeValentino Properties is also offering a special $500 incentive to home buyers who purchase a standard listed home for $50,000 or more, delivered at closing.
Having a real estate broker to represent your interest is important. The typical FSBO home sold for $184,000 compared to $230,000 for agent-assisted home sales (NAR, 2013).
Sellers working with DeValentino Properties will receive the following services:
– Price to sale with a Comparative Market Analysis (CMA).
– Showing & staging assistance.
– Advertise in the Multiple Listing Service (MLS).
– Neighborhood marketing with a yard sign.
– Secure lockbox showings.
– Network with agents to facilitate sale.
– Arrange property showings and inspections.
– Provide showing feedback & progress reports.
– Assistance with contracts, negotiating, financing, and closing.
– Reduce liability and avoid selling pitfalls.
– Sell faster, while saving time & money!
In addition to the special promotions and incentives, clients will receive world class service by a real estate broker who has more than seventeen years of experience in the real estate industry and has authored Sold! 200+ Tips to Sell Your Home for More Money Fast.
Sold! focuses on:
– Evaluating offers
– Staging the property
– Preparing for the closing
– Incentivizing the property
– Maximizing marketing efforts
– Creating spectacular showings
– Avenues to procure property sales
– Preparing the property for the market
Jessica is a licensed real estate broker with seventeen years of experience in the field of real estate. Jessica's book Sold! is a practical guide for residential property owners who want to maximize profits from the sale of their property fast. Sold! reveals the pitfalls that cause properties to go months without an offer and strategies and techniques to quicken the sale of a property in any market. Packed with real-world examples, resources, and checklists, Sold! helps sellers maximize home sale profits fast.
Sold! is available free on Amazon from March 10 - 14, 2015: http://www.amazon.com/Sold-Tips-Sell-Your-Money-ebook/dp/B00N8CFFJI/ref=sr_1_1?s=digital-text&ie=UTF8&qid=1411846793&sr=1-1&keywords=Sold!+devalentino
Reference
2013 Profile of Home Buyers and Sellers. (2013). National Association of Realtors. Retrieved March 8, 2015 from http://www.realtor.org/field-guides/field-guide-to-quick-real-estate-statistics