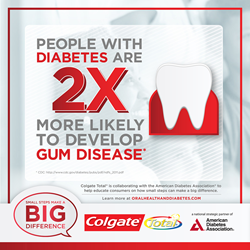 Maintaining good oral health is a secret weapon that can be used to help win the fight against diabetes!
New York, New York (PRWEB) March 09, 2015
Colgate Total® Dentist Dr. Catrise Austin, along with her partners from the National Dental Association (NDA) "Health Now" Project, will be providing free dental checkups onsite for attendees of the 2015 American Diabetes Association Expo, distributing free oral care products, and offering consumers who don't have dental insurance the option to join a nationwide family discount dental plan for the low cost of $11.95/month for access to affordable dental care.
"Maintaining good oral health is a secret weapon that can be used to help win the fight against diabetes," says Dr. Austin. "I am extremely excited to join forces with the American Diabetes Association by offering free dental screenings at this year's diabetes expo. It's just one small step that I can take as a healthcare professional to help their big mission to stop diabetes."
According to the Centers for Disease Control and Prevention, people living with diabetes are two times as likely to develop gum disease.¹ That's because people with diabetes are generally more susceptible to infections and less able to fight infections that invade the mouth. Beyond gum disease, poor glucose control in diabetics can also lead to tooth decay, dry mouth, fungal and other serious infections in the mouth. As an important link, untreated infections in the mouth can wreak havoc on the diabetic's already compromised and vulnerable immune system, leading to the progression of diabetic complications throughout the body. With nearly 30 million people in the USA and 382 million people living with diabetes worldwide—poor oral health spells big trouble!
Dr. Austin says, "If you suffer from diabetes, your dentist should be considered as another key member of your diabetic care team and should work closely with your physicians to keep you healthy."
The American Diabetes Association Expo presented by Healthfirst will take place in New York City on Saturday, March 14, 2015, at the Jacob Javits Center from 10:00 a.m. to 4:00 p.m. Visit booth #363/365 to meet Dr. Catrise Austin for dental information, free dental screenings, and dental product giveaways. The expo event is of no cost to attend and includes a variety of additional health screenings, cooking demonstrations, product and service exhibitors, as well as leading experts talking about diabetes management, research and prevention. Join the Millions® in the fight to Stop Diabetes®. Live healthy, be active and change the future of diabetes for you and your family.
About Dr. Catrise Austin
Dr. Catrise Austin is a renowned and often sought after expert in the field of dentistry. In 2013, Dr. Austin joined Colgate Total® as an expert and national spokesperson to help spread the message of the importance of good oral health for diabetics. Her debut book, "5 Steps To the Hollywood A-List Smile," landed her on NBC's Today Show and was well received by both patients and her peers. Inspired by her family history of diabetes and her own battle with being pre-diabetic, Dr. Austin released her second book in November 2014, titled "Winning The Fight Against Diabetes: The Secrets to Living Longer and Healthier With A Smile," on Amazon. Dr. Austin, known as a pillar within her industry and among her celebrity clientele, is also a professional speaker, advocate for the American Diabetes Association, and founder of New York City Cosmetic and General Dentistry, a full service dental practice in New York City. Dr. Catrise Austin is a trailblazer in the "Total Health" movement and is passionate about changing lives one smile at a time.
For more information on the links between oral health and diabetes, contact Dr. Catrise Austin or visit http://www.vipsmiles.com for speaking and media requests.
1) CDC, National Diabetes Fact Sheet, 2011: http://www.cdc.gov/diabetes/pubs/pdf/ndfs_2011.pdf