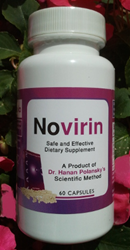 In light of the fact that there are no vaccines against the herpes virus currently on the market, the CBCD recommends that HSV infected individuals take Novirin. – Greg Bennett, CBCD
Rochester, NY (PRWEB) March 10, 2015
"Infected with the herpes simplex virus (HSV-1 or HSV-2)? The Center for the Biology of Chronic Disease (CBCD), which tested the formula of Novirin in two post-marketing clinical studies, recommends taking this natural antiviral supplement." – Greg Bennett, CBCD
Scientists at the Howard Hughes Medical Institute (HHMI) are developing a herpes vaccine. In animal tests, the vaccine has proven effective against both strains of the herpes simplex virus (HSV-1 and HSV-2). However, unlike other herpes vaccine candidates, HHMI scientists believe that theirs will eliminate both the active and the latent virus. "The new vaccine was found to be effective against the two most common forms of herpes that cause cold sores (HSV-1) and genital ulcers (HSV-2). Both are known to infect the body's nerve cells, where the virus can lay dormant for years before symptoms reappear. The new vaccine is the first to prevent this type of latent infection. (1) William Jacobs, an HHMI investigator at the Albert Einstein College of Medicine said "With herpes sores you continually get them. If our vaccine works in humans as it does in mice, administering it early in life could completely eliminate herpes latency." (1) Effectively, this would also eliminate recurrent herpes outbreaks.
Company officials developing a competing herpes vaccine noted that "High unmet medical needs exist for new treatments because existing treatments of acyclovir-based antivirals can temporarily reduce but not eliminate genital herpes, viral shedding, and transmission; these drugs have not appreciably impacted HSV-2 seroprevalence rates despite over 30 years of usage." (See Stockhouse.com, from October 8, 2014) (2) In other words, traditional anti-herpes medications have not lowered the HSV infection rate in over 30 years, and these company officials are hopeful that vaccines in development will change this reality.
The Center for the Biology of Chronic Disease (CBCD) is encouraged by the direction HHMI's research has taken. Part of the mission of the CBCD is researching the effect of foreign DNA, such as that found in latent viruses, on human cells. Since 2003, the CBCD has warned of the dangers latent viruses pose. The Center believes removing herpes from the long list of chronic diseases will be an important step forward for medicine.
However, developing an effective, therapeutic vaccine against the genital herpes virus (HSV-2) and gaining FDA approval takes time. Until HHMI's anti-herpes vaccine is FDA approved, the CBCD recommends that infected individuals take Novirin, a natural herpes remedy with a formula backed by clinical studies.
Click to learn more about Novirin and herpes symptoms.
The formula of Novirin was tested by Hanan Polansky and Edan Itzkovitz from the CBCD in two clinical studies that followed FDA guidelines. The studies showed that the Novirin formula is effective against the herpes family of viruses, including HSV-1 and HSV-2. The clinical studies were published in the peer reviewed, medical journal Pharmacology & Pharmacy, the first, in a special edition on Advances in Antiviral Drugs. Study authors wrote that, "individuals infected with the HSV … reported a safe decrease in their symptoms following treatment with (the formula of Novirin)." (3) The study authors also wrote that, "We observed a statistically significant decrease in the severity, duration, and frequency of symptoms." (3)
Novirin can be ordered online on the product website, here: http://www.novirin.com.
Novirin is a natural antiviral dietary supplement. Its formula contains five natural ingredients: Selenium, Camellia Sinesis Extract, Quercetin, Cinnamomum Extract, and Licorice Extract. The first ingredient is a trace element, and the other four are plant extracts. Each ingredient and its dose was chosen through a scientific approach. Scientists at polyDNA, the company that invented and patented the formula, scanned thousands of scientific and medical papers published in various medical and scientific journals, and identified the safest and most effective natural ingredients against latent viruses.
To date, Novirin is the only natural antiviral products on the market with published clinical studies that support its claims.
As noted above, animal tests showed that HHMI's herpes vaccine candidate worked well. "The vaccine completely immunized two common strains of lab mice against HSV-2 when challenged with virus intravaginally or on the skin. In fact, no virus could be detected in vaginal washes four days post-challenge and even more importantly, no virus could be found in the nerve tissue, the site where HSV often hides in a latent form only to emerge later to cause disease. Protection against HSV-1, which shares considerable homology with HSV-2, was also demonstrated in both models. The vaccine produced no adverse health effects in a strain of mice with severely compromised immune systems, reflecting the vaccine's overall safety." (1)
It should be remembered that HSV-2 causes recurrent and painful genital sores and increases susceptibility to HIV. "Also, babies born to mothers with active genital herpes have a more than 80 percent mortality rate. Current estimates suggest that 500 million people worldwide are infected with HSV-2, with approximately 20 million new cases occurring annually. While infection rates in the U.S. hover around 15 to 20 percent, HSV-2 is highly prevalent in sub-Saharan Africa, where nearly three in four women have contracted the virus, contributing significantly to the region's HIV epidemic. The related virus, HSV-1 is primarily associated with oral lesions, but is a major cause of corneal blindness and infects around 60 percent of the world's population. Notably, HSV-1 has been increasingly recognized as a cause of genital herpes in the United States and other developed countries." (1)
What treatments are currently available for those infected with the herpes virus?
"Two types of antiviral treatments against HSV are available: topical and oral. The treatments include penciclovir, acyclovir, famciclovir, and valaciclovir. However, their effectiveness is limited. For instance, a meta-analysis of five placebo-controlled and two dose comparison studies evaluated the effect of aciclovir, famciclovir or valaciclovir on symptoms. The meta-analysis showed that oral antiviral therapy decreases the duration and the associated pain of an outbreak by merely one day." (3) There is also the natural antiviral product, Novirin. A post-marketing clinical study found that the formula of Novirin reduced the symptoms of HSV infected individuals. (3)
"We believe a vaccine that is effective against both the active and latent herpes virus will be a medical breakthrough. But, in light of the fact that there are no vaccines against the herpes virus currently on the market, the CBCD recommends that HSV infected individuals take Novirin." – Greg Bennett, CBCD
Click to learn more about Novirin and HSV.
References:
(1) Howard Hughes Medical Institute (HHMI) - Radical Vaccine Design Effective Against Herpes Viruses. Published March 7, 2015.
http://www.hhmi.org/news/radical-vaccine-design-effective-against-herpes-viruses
(2) stockhouse.com - Vical Granted Six U.S. Patents for HSV-2 Vaccines. Published October 8, 2014
http://www.stockhouse.com/news/press-releases/2014/10/08/vical-granted-six-u-s-patents-for-hsv-2-vaccines
(3) Polansky, H., Itzkovitz, E. Gene-Eden-VIR Is Antiviral: Results of a Post Marketing Clinical Study. Published on August 12, 2013. http://www.scirp.org/journal/PaperInformation.aspx?PaperID=36101#.VH2qQNKUf90