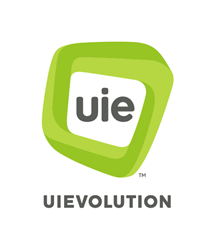 UIE ExperienceManager delivers best-in-class entertainment to passengers and crew. Even more, it puts unparalleled business intelligence tools in the hands of the brands.
Seattle, Washington (PRWEB) March 10, 2015
UIEvolution, Inc., the global leader in highly scalable connected device software solutions for Enterprise companies in the Cruise, Hospitality and Automotive industries, today announced it will demonstrate its market leading and fully customizable In-Room Entertainment and Digital Signage product, UIE ExperienceManager™, at Cruise Shipping Miami, March 17-19, 2015 in Miami Beach, FL, in the VIDELIO-HMS booth #1701.
UIE ExperienceManager is a platform for managing video-on-demand (VOD), Live TV, music, and over-the-top (OTT) apps. Build to support rich services and integration of web standard Applications and Games, UIE ExperienceManager allows cruise lines to deliver rich and highly personalized guest experiences that are completely unique to their brand. Live and in market on over 35,000 screens across multiple ships and brands worldwide, the award-winning platform has been successfully deployed in both Ethernet and Coax environments, delivering VOD, Live TV, Streaming Radio, Onboard Services and Interactive Games and Applications. UIE ExperienceManager also powers rich digital signage that is easy to create and update from ship or shore.
"Creating amazing, immersive customer experiences is more important than ever in the cruise ship industry," said Travis Beaven, Chief Product Officer at UIEvolution. "At Cruise Shipping Miami, we'll show you how our product not only delivers best-in-class entertainment to passengers and crew, but also puts unparalleled business intelligence tools in the hands of the brands to really understand how passengers are using and consuming their services. We are extremely excited about the products we are able to bring to market with our amazing partners who really transform and change the cruise ship industry in a profound way."
Benefits of UIE ExperienceManager include:

Allows staff to easily refresh content and customize the user experience from ship or shore
Can be installed while in active service with no disruption to customers and significant cost savings to the brand
Built on an open HTML5 web standard architecture that supports customization and expansion
Supports Live TV, VOD, Streaming Radio, Games and Applications, as well as 4K video
Plays on all industry standard Smart TVs with no additional hardware required
Also plays on any standard Set Back Boxes to support any type of TV or display
Supports deployment of Bluetooth/BLE to increase guest engagement and interactive experiences with mobile and tablet devices
Allows for remote monitoring and installation of updates over the air
To learn more about UIE ExperienceManager, contact us to schedule a live demonstration at Cruise Shipping Miami. Or visit our website to learn more.
About UIEvolution
UIEvolution is a vertical cloud Software-as-a-Service (SaaS) provider specializing in highly scalable connected device software and solutions across a broad range of markets, including Automotive, Cruise, Hotel, Retail and more. We believe that technology and connectivity should enhance and never distract from life experiences. From our inception in 2000, we have said - The User's Experience Matters. And, now for nearly 15 years we have made software and provided services that deliver this vision. Headquartered in Seattle with offices in Tokyo and Detroit, UIEvolution has a proven track record with clients like Toyota, Lexus, Carnival Cruise Lines, Samsung, AT&T, Microsoft, Disney, Mitsubishi and Panasonic. http://www.uievolution.com