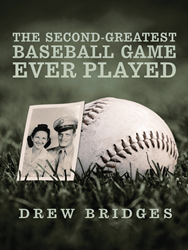 An imperfect and in most ways ordinary man can have a profound and positive impact on the lives of others
RALEIGH, N.C. (PRWEB) March 10, 2015
Thousands of miles from home, Charlie Bridges dreamed of an end to war and a quiet, peaceful life – one filled with the simple pleasures of his wife, his children, and baseball.
In "The Second-Greatest Baseball Game Ever Played," Drew Bridges, Charlie's son, contemplates his perception of his father's life by squaring memories of a cherished baseball game from his childhood with Charlie's letters home during World War II. The result is an intimate look at a soldier's return and a touching tribute to a father from his son.
"His letters reveal his heart, mind, and dreams of a future," Bridges said. "I learned things about him I would never have anticipated."
Bridges and his father connected over a shared love for baseball, and the action of the book revolves around a game Charlie organized for his sons and the other boys in their small town – a game that would serve as a catalyst for the start of a local Little League program.
"An imperfect and in most ways ordinary man can have a profound and positive impact on the lives of others," Bridges said. "I had a unique opportunity to honor his life – a life that is a story worth telling."
For more information, visit http://www.storystorewf.com.
The Second-Greatest Baseball Game Ever Played
By Drew Bridges
ISBN: 978-1-49174-778-0
Available in softcover, hardcover, e-book
Available on Amazon, Barnes & Noble and iUniverse
About the author
Drew Bridges is a retired psychiatrist who has returned to his English major roots by opening The Storytellers Bookstore with his wife Lauren in Wake Forest, North Carolina. Bridges is also the author of "Family Lost and Found" and a book about storytelling.
For review copies or interview requests, contact:
Drew Tharp
317.602.7137
dtharp(at)bohlsengroup(dot)com