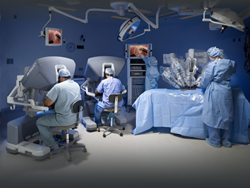 Lake Orion, Clarkston, Birmingham, Metamora MI. (PRWEB) March 08, 2015
Robotic reproductive surgery has brought the opportunity to perform complex reproductive surgeries through a minimally invasive approach. Robotic surgery allows Women's Excellence to use more precise dissection, better visualization and improved ability to suture in the minimally invasive environment, which makes it a perfect choice for reproductive surgery.
Women's Excellence now offers robotic tubal reversal, reconstructive tubal surgery, robotic myomectomy, and robotic reconstruction of mullerian anomalies for those women who have had a congenital uterine anomaly.
Women's Excellence is the most comprehensive obstetric and gynecologic office in Michigan. They also specialize in menopause, weight control, bladder control, endometriosis, robotic surgery, pelvic floor physical therapy, and midwifery services. The knowledgeable, well-trained, compassionate physicians and healthcare providers of Women's Excellence are taking new patients and are conveniently located in three locations throughout southeastern Michigan, Birmingham, Lake Orion, Clarkston and Metamora. For more information, visit http://www.womensexcellence.com.