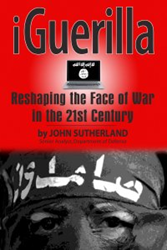 This is an essential book.
Palisades, NY (PRWEB) March 09, 2015
Retired U.S. Army Lt. Colonel, author, and television Strategic Analyst for Fox News, Ralph Peters recently read an advance review copy of " iGuerilla: Reshaping the Face of War in the 21st Century" by John Sutherland and was quick to voice his comments about the forthcoming book that brings to the reader an examination of the war that appears to be gradually enshrouding the globe.
Mr. Peters said, "Finally, a well-executed, practical work on the rapidly expanding dimensions of warfare--and how we can respond effectively. For decades, the tomes of self-anointed 'experts' have killed more trees than terrorists, but John Sutherland is the real thing: a combat veteran who thinks profoundly about national security and a senior Pentagon analyst at the cutting edge of our military's evolution. This fine book is clear, concise, informed, well-reasoned and, above all, useful to our military, to policy-makers and to citizens seeking to come to grips with an age that combines old-fashioned battlefield bloodshed and fanaticism with post-modern digital violence. This is an essential book."
This "essential book" is an examination of how 21st Century militant Islam has created a force in an attempt to control contemporary societies and subject them to medieval servitude. It offers insight into militant Islam, and illustrates how, who, and why its factions compete for primacy and why they simultaneously wage war on the Jews, Christians, moderate Muslims, and everyone else not in agreement with them. It also illustrates the Islamist strategy of killing America, the "Great Satan" with a "thousand cuts," if it cannot do so with one swift blow.
The author illustrates how the Internet is the highway on which the Islamists travel to communicate, recruit, plan and propagandize. Illustrations and graphs augment the text and they are also used as an illustration of the development of the "iGuerilla" as the combatant in the new form of warfare the author calls "wiki-war", in which any non-state group such as Al-Qaeda, Boko-Haram and others can declare war on legitimate nation states. The author also illustrates how the non-state groups are sponsored in large part by Iran and driven by that country's desire for global domination under the auspices of a caliphate.
John Sutherland, an experienced U.S. Army combat officer, as well as a senior analyst for the Department of Defense, lays out the strategic groundwork, drawn from previous successful situations used by the United States and successful tactics from his recent military experience, to confront and defeat the force seeking world domination.
iGuerilla: Reshaping the Face of War in the 21st Century 97819407733100, hardcover, will be published by History Publishing Company, April 25, 2015. It will be available at Barnes and Noble, Amazon, fine bookstores nationally and as in e-book globally. It will also be in fine bookstores in the United Kingdom.
ct: Don Bracken, djb(at)historypublishingco(dot)com, (845) 398-8161