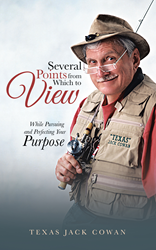 I'm just a good old East Texan with a need to pay forward all of my mentors' gifts
DALLAS, Texas (PRWEB) March 10, 2015
Jack Cowan has led a charmed life – he has a loving family, a varied and interesting career, and he's traveled all over the globe. And yet, as natural as his life seems now, there was a time in which all of these blessings were impossibly out of reach.
Without the guidance of a few mentors at crucially important times in his life, Cowan might have never reached his potential. In his new book, "Several Points from Which to View," Cowan pays tribute to those mentors and passes their lessons – along with some of his own wisdom – to a new generation.
"I'm just a good old East Texan with a need to pay forward all of my mentors' gifts," Cowan said.
In the book, Cowan – known to many as "Texas Jack" – uses his life experience and trademark sense of humor to encourage others to find their purpose.
For more information, visit http://www.authorhouse.com.
Several Points from Which to View
By Texas Jack Cowan
ISBN: 978-1-49695-776-4
Available in softcover, e-book
Available on Amazon, Barnes & Noble and AuthorHouse
About the author
Texas Jack Cowan had a long and winding career through the finance, advertising, public relations, and real estate industries. Now self-unemployed, he lives in Tyler, Texas with his wife of 58 years. Together, they have two children and four grandchildren. He is also fortunate enough to have some people who like him and a few more who are trying to.
For review copies or interview requests, contact:
Drew Tharp
317.602.7137
dtharp(at)bohlsengroup(dot)com