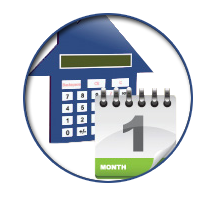 Shopping around for a home loan is a smart way to competitively find the best rate and loan officer
Chicago, IL (PRWEB) March 08, 2015
Peoples Home Equity knows that shopping for a home loan can be a challenging process. There are many loans types to choose from, differing terms among different lenders, and the loan officers themselves may offer different pieces of advice.
The follow is a list of tips Peoples Home Equity suggests to follow when shopping for a home loan.
Predetermine The Loan Amount:
Before shopping for a home loan, one must know how much they can afford. One can easily find out how much a monthly mortgage payment will cost by visiting PeoplesHomeEquity.com. The Lender has an excellent "Monthly Payment Calculator." For example, a $100,000 30-year fixed home loan at a 4.5% interest rate costs $506/month. From this calculation one can create a rule of thumb during their home search that every $50,000 of home, it costs $250/month (assuming a 4.5% interest rate). Currently mortgage rates are lower than 4% so buyers have a great opportunity to lock in a low rate now. If one is looking to purchase an expensive home and does not know how much they can borrow, Peoples Home Equity also has a "HOW MUCH CAN I BORROW?" calculator.
Find A Good Lender
Peoples Home Equity knows prospective mortgage applicants have options, as they should. Shopping around for a home loan is a smart way to competitively find the best rate and loan officer. In addition, one will find out how much mortgage insurance is required from different lenders.
Read The Fine Print
Once a lender and loan officer have been chose, it will be time to read, digest, and understand the terms of the mortgage contract. Many times the home buyer has the intention of paying off the mortgage early, thus one wants to make sure there is no pre-payment penalty. If refinancing, reading the terms is critical in assuring the new agreement is better than the old one. Once one understands the terms of their loan contract they will become fully aware of the risks associated, this is equally important for co-signers. For peace of mind, one may want to run their loan contract through their lawyer.
If one follows these 4 simple tips one will probably find the correct their prefer lender and loan officer.
If in need of a mortgage, contact a Peoples Home Equity loan officer today at: 262-563-4026