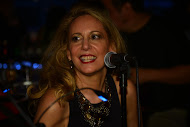 New York, NY (PRWEB) March 09, 2015
Ellen Kaye with Ethan Fein and the M57 Band will perform at a special reception to benefit the US National Committee for UN Women and its Metro New York Chapter, hosted by the Consulate General of Hungary, 225 East 52nd Street, honoring advertisers and their agencies whose campaigns have powerful and positive messages for women and girls. This reception follows a panel, Gender Representation in Advertising: Socializing Sexism and Breaking Stereotypes, where experts in media, gender issues and advertising will discuss and field questions on what advertisers can do to advance gender equality by shaping perceptions of women and girls through advertising.
Ellen Kaye and Moscow 57's relationship with UN Women came about when Cheryl Benton, President of the NY Chapter of UN Women and founder and publisher of The Three Tomatoes, a lifestyle web site and newsletter for "women who aren't kids," heard Ellen sing Dar Williams's song "When I Was a Boy," and asked Ellen to sing the song at a luncheon for UN Women at the United Nations in March of 2012. They've remained in touch since and are both excited to be collaborating on this event. Where Kaye will once again perform "When I Was a Boy," which has become the touchstone for the collaboration of the Metro NY Chapter of UN Women and Moscow 57, the entertainment and hospitality company founded by Kaye and partners Seth Goldman and Ethan Fein.
The proceeds of all sales from Ellen's single of "When I was a Boy" in 2015 will be donated to UN Women's HeForShe campaign. HeForShe is a solidarity movement for gender equality developed by UN Women to engage men and boys as advocates and agents of change for the achievement of gender equality and women's rights. The campaign encourages men and boys to speak out and take action against inequalities faced by women and girls.
The panel Gender Representation in Advertising: Socializing Sexism and Breaking Stereotypes will be on March 9, 2015 from 2:30pm-4:00pm at the UN Church Center, 777 1st Avenue, New York.
Panelists will include Lezlie Yazel, Executive Editor, Cosmopolitan, Shenan Reed, President North America, MEC Global, Judy John, CEO & CCO, Leo Burnett Toronto, Seema Patel, SVP and Account Director for COVERGIRL, Grey Advertising and Shakthi Jothianandan, Research, Vogue. The moderator will be Warren Hoge, Senior Advisor External Relations, International Peace Institute.
The evening reception benefiting UN Women and Honoring Advertisers featuring Ellen Kaye with Ethan Fein and the M57 Band will be at the Consulate General of Hungary, 223 E 52nd Street, New York on March 9, 2015 from 6:00pm- 9:00pm. Honorees at the reception are Grey Advertising / Pantene - "Not Sorry," Grey Advertising / COVERGIRL - "Girls Can," Leo Burnett / *Always - "Like a Girl," BBDO / Pantene Philippines - "Labels," BBDO / GE - "What My Mom Does at GE," Droga5 / Under Armour - "I Will What I Want."
ABOUT ELLEN KAYE
Ellen Kaye's singing career took off when she was booked at the original Monkey Bar and played there every Friday and Saturday night for two years. Performances at Carnegie Hall (with the New York Pops) and Town Hall followed, along with other NYC venues - the Angry Squire, Maxim's, Tatou, Surf Reality and the original LaMamaETC, as well as at the The Bearsville Theater Lounge in Woodstock, The Silo in Connecticut, and New Orleans.
Kaye has appeared regularly at noted jazz club The Iridium, and the Metropolitan Room. Ellen was invited to sing When I Was a Boy, by Dar Williams, in the United Nations Delegates dining room for the March 2012 luncheon of the Metro New York Chapter of UN Women.
Kaye's recordings are Ice Wine - songs for Christmas and dark winter nights, 3AM...the dogs, the milkman & me, 2AM and the single of Dar Williams' When I Was a Boy.
Ellen's songs have played and she has been interviewed on radio programs across the country, including those on PRI, WNEW, WNYC and on WVOX/WRTN, where she also hosted The Ellen Kaye Show. Ellen co-hosted and co-produced M57 Straight from Delancey a 14 episode radio show, also broacast on WVOX in 2014.
ABOUT UN WOMEN
In July 2010, the United Nations General Assembly created UN Women, the United Nations Entity for Gender Equality and the Empowerment of Women. In doing so, UN Member States took an historic step in accelerating the Organization's goals on gender equality and the empowerment of women. The creation of UN Women came about as part of the UN reform agenda, bringing together resources and mandates for greater impact. It merges and builds on the important work of four previously distinct parts of the UN system, which focused exclusively on gender equality and women's empowerment:
Division for the Advancement of Women (DAW)
International Research and Training Institute for the Advancement of Women (INSTRAW)
Office of the Special Adviser on Gender Issues and Advancement of Women (OSAGI)
United Nations Development Fund for Women (UNIFEM)
The main roles of UN Women are:
To support inter-governmental bodies, such as the Commission on the Status of Women, in their formulation of policies, global standards and norms.
To help Member States to implement these standards, standing ready to provide suitable technical and financial support to those countries that request it, and to forge effective partnerships with civil society.
To lead and coordinate the UN system's work on gender equality as well as promote accountability, including through regular monitoring of system-wide progress.

ABOUT MOSCOW 57
Moscow 57, the hospitality and entertainment company, was launched several years ago by partners Ellen Kaye, Seth Goldman and Ethan Fein. Kaye is a third generation restaurateur: her grandfather had restaurants in the 1920's and her parents, Sidney Kaye and Faith Stewart-Gordon owned The Russian Tea Room from 1947-1996. Moscow 57 on Delancey, their Russian Central Asian restaurant with live music on NYC's Lower East Side opened in February 2014.
For the two years prior, the company hosted its M57 Urban Salons, evenings of music, food and digital visual art displays, in Harlem; Washington Heights; Chelsea; the Upper East Side; the East Village; Governors Island; New Milford, Connecticut; and New Orleans.
Moscow 57 has made New Orleans a home away from home, with regular forays into that city's world-renowned culture of Southern hospitality, regional cuisine, and world-class entertainment. After performing at and co-producing events with New York's Corcho Wine Room, as well as celebrating Latin American culture in New Orleans, this cosmopolitan attitude is being brought to Moscow 57's permanent home on New York City's Lower East Side every night.
Moscow 57 Entertaining is developing projects for film, television and theater. Its music company produces podcasts, live performances, recordings and videos. Moscow 57's first CD releases have already garnered national radio airplay, and the company's videos can be seen on the Moscow57Entertaining YouTube channel.
M57 Straight From Delancey, their radio show with a live audience from the restaurant, aired Sunday nights at 7:00pm on
WVOX 1460 AM, streamed live on their website, [http://www.wvox.com and is archived at
http://www.moscow57.com