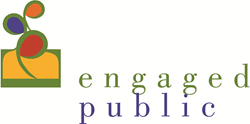 Budgets are one of the most direct ways for communities to express what is important to them, and Balancing Act makes it easier than ever for citizens to make their priorities known. - Chris Adams, Engaged Public president
Denver, CO. (PRWEB) March 09, 2015
Engaged Public®, a Denver-based public policy firm, today announced the launch of Balancing Act, a next-generation online budget simulator that's affordable, easy to use, and builds upon the success of its predecessor, Backseat Budgeter.
Found at http://abalancingact.com/, Balancing Act is a tool for municipalities to share their budgets with residents in an easy, interactive format that improves government transparency and promotes citizen engagement. For citizens, Balancing Act is a place to look up local budgets by zip code; explore the "balancing act" of choosing where money comes from and how it is spent; and give feedback on budgeting priorities to public officials with the push of a button. To view a sample budget, visit http://anytown-co.abalancingact.com/.
"After eight months of development, we are excited to pull back the curtain on Balancing Act, our user-friendly online public budget simulator," said Chris Adams, president of Engaged Public. "Budgets are one of the most direct ways for communities to express what is important to them, and Balancing Act makes it easier than ever for citizens to make their priorities known."
Developed by Engaged Public in partnership with CauseLabs, a Denver-based developer of tools to impact people, Balancing Act currently supports municipal budgets, with county, school district and state budgets to be added later in 2015.
"The CauseLabs team is excited about our role in the launch of Balancing Act because it has the power to increase transparency and improve decisions in our communities," said Sarah Solano, CauseLabs CFO/COO. "Understanding public budgets is an important step in empowering residents regarding how our public dollars are spent."
In addition, the Balancing Act Blog will keep users informed on news about the intersection of public budgets and public engagement.
"We've been educating citizens on public budgets since 2007 when we created the Backseat Budgeter online simulator as a demonstration tool for our public policy leadership program," Adams said. "That tool's positive impact and use by the state of Colorado and cities across the U.S. convinced us that we needed to develop the next-generation tool for increasing transparency in the budgeting process - a true balancing act on the part of public officials in every corner of our country."
Balancing Act benefits public entities by providing:

A customizable online budget simulation page with a unique URL and ability to upload a logo.
Embedded "help" text.
Pre-loaded budget categories and descriptions.
Hosting on Engaged Public servers.
A simple onboarding process.
In-depth, aggregated data reports on resident budget priorities, including qualitative feedback.
An optimized platform to handle the complexity of public budgets in a way that goes beyond simple discussion forums.
A growing catalogue of background research, best practices and standards.
Email support throughout the process.
Citizens use Balancing Act by visiting http://abalancingact.com/, entering their zip code, and exploring the available budgets or by following a direct link from their city's webpage. They can also submit requests to their public officials asking that their budgets be added to Balancing Act and sign up to receive updates from the Balancing Act Blog.
Pricing ranges from $99 a month (with $400 setup fee) for entities with fewer than 1,000 residents to customizable packages for unique and complex budget needs.
To learn more about the work of Engaged Public, visit http://www.engagedpublic.com.
About Engaged Public:
Engaged Public is a Denver-based, boutique public engagement firm specializing in the development of strategies for better public policies. We work with civic leaders, public and private stakeholders, and the public to tackle complex public challenges head-on, using straightforward, collaborative and non-rhetorical dialogue to bridge the gap between people and the policies that impact their lives. We believe that public engagement is critical to solutions to complex public problems. Our approach considers what, when, and how to tap into the mindset of public opinion to create the most strategically sound and well-received policies. To learn more visit us at http://www.EngagedPublic.com, on Facebook, or on Twitter.