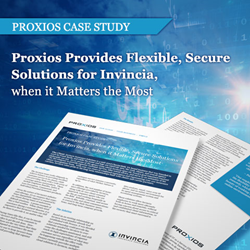 (PRWEB) March 09, 2015
A recently published case study features Invincia Insurance Solutions, a mid-sized insurance agency that has found greater business success thanks to its partnership with Proxios. Proxios currently provides the company multiple cloud solutions including: data analysis, email, voice-over IP phone, and an online environment.
The case study offers background information on IT challenges Invincia had previously faced. Given the nature of its industry and offerings, oftentimes Invincia's clients require assistance during difficult scenarios, such as bad weather. It was important for Invincia's team to have reliable, constant, and secure access to files remotely, so that employees can remain safe, yet clients still well-served.
The results have demonstrated that Proxios solutions make overcoming these challenges possible, and in the study, Invincia cites Proxios' team approach as being the driving force. This method allows the Proxios team great familiarity with the Invincia account, as well as the company's specific needs. Invincia's employees are now consistently and safely accessible for clients, even during a turbulent situation. These effective solutions are a major factor in the company's on-going success, and growth.
Patrick Beale, CFO and Risk Consultant with Invincia, added, "Even if Virginia is getting pummeled by a hurricane, we are able to remain up and running and our employees can still get the job done even if the office is shut down. The time we're going to get our most calls is when a disaster hits, so Proxios absolutely helps us, especially from a claims management perspective."
About Proxios
Proxios is headquartered in Richmond, Virginia and is in the business of IT as a Service (ITaas). As a provider since 1999, we have proven knowledge and experience to move customer infrastructure to the cloud, freeing customers to do what they do best, driving real business value from the applications that help run your business. We provide a wide range of cloud services to our customers throughout the United States and Canada including telephony and collaboration, business virtual desktops, and application hosting that help run their businesses.
About Invincia Insurance Solutions
Invincia Insurance Solutions was founded in 2006 by Frank Beale, and while the name and logo are relatively new, the staff, clients, and overall agency philosophy are not. As co-owner of the agency that Invincia spun off from, Frank's philosophy has always been to provide superior customer service, sound advice, and to serve as an extension of his clients' management team. With over 100 years of combined experience and representing over 100 insurance carriers, we take pride in the long-term relationships we have built with our clients and carrier partners.