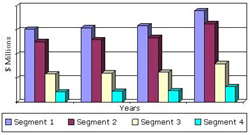 The global market for animal therapeutics and diagnostics is expected to reach about $46.5 billion in 2019
Wellesley, Mass. (PRWEB) March 09, 2015
Wellesley, Mass., March 9, 2015 – BCC Research (http://www.bccresearch.com) reveals in its new report on animal therapeutics and diagnostics that in contrast to human blockbuster-oriented pharmaceuticals, animal health is dominated by a large number of products with small revenues. Although there are hundreds of products offered in the animal health market, only a couple dozen products have sales exceeding $100 million per year. However, the industry continues to forge on. The fastest growing therapeutic categories are in the area of companion animals, specifically in the allergy and respiratory and arthritis and pain segments of the market.
The animal health industry is responsible for maintaining the health and productivity of the more than 3 billion livestock and more than 50 billion poultry worldwide and ensuring the wholesomeness and abundance of the food it produces. Despite this, the human healthcare market is 30 times larger than the combined market for all nonhuman species. The reality is that the global animal health market is very complex, operating under stringent and increasingly strict regulations similar to those for human health, yet the market opportunities are considerably smaller.
By 2019, the animal therapeutics and diagnostics market is likely to reach a value of nearly $46.5 billion, with a five-year compound annual growth rate (CAGR) from 2014 through 2019 of 4.2%. The pharmaceutical segment accounts for the largest percentage of revenues with nearly 42%. Pharmaceuticals include a number of drug classifications, including allergy treatments, anti-infectives, anti-inflammatories, metabolic drugs, parasite control and other specialized drugs. Sales for animal pharmaceuticals were valued at $15.9 billion for 2014 and are anticipated to increase to nearly $19 billion by 2019.
In an increasingly risky environment for new product development, the difference between achievement and failure in the future usually lies in successfully identifying the next growth segment, developing the right product candidates and being the first to market. Despite all these risks, the industry continues to grow.
A challenging aspect of the animal health market is within the animal food industry as consumers continue to express concern about the conditions under which their daily food is produced. "Consumers are becoming more health conscious, and demanding healthy and balanced diets," says BCC Research analyst Melissa Elder. "The growing trend of natural and organic food is creating a niche market opportunity for suppliers. By implementing a feeding plan that provides vitamins and supplements, consumers enjoy additional nutritional benefits." Additionally, healthy feeding results in minimized impact on the environment.
Global Markets for Animal Therapeutics and Diagnostics provides an overview of products included in animal therapeutics and diagnostics market and its detailed market analyses and competitive environments. The study includes information about significant products, players, issues and trends, and other information affecting this market through 2019.
Editors and reporters who wish to speak with the analyst should contact Steven Cumming at steven.cumming(at)bccresearch(dot)com.
About BCC Research
BCC Research publishes market research reports that make organizations worldwide more profitable with intelligence that drives smart business decisions. These reports cover today's major industrial and technology sectors, including emerging markets. For more than 40 years we've helped customers identify new market opportunities with accurate and reliable data and insight, including market sizing, forecasting, industry overviews, and identification of significant trends and key market participants. We partner with analysts who are experts in specific areas of industry and technology, providing unbiased measurements and assessments of global markets. Recently selected as the world's greatest market research company, BCC Research is a unit of Eli Global, LLC. Visit our website at http://www.bccresearch.com. Contact us: (+1) 781-489-7301 (U.S. Eastern Time), or email information(at)bccresearch(dot)com.