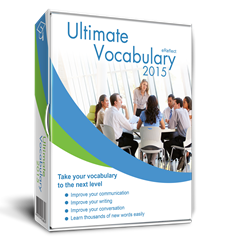 Word power is not necessarily found in knowing obscure words and fancy expressions...
New York City, NY (PRWEB) March 14, 2015
In a recent blog post Ultimate Vocabulary™ offers an insightful look into how words acquire new meaning when they are used in tech contexts. As the eReflect editors explain, words like "web," "wall," and "tinder" now have additional meanings, thanks to technology. A web is more than a spider's masterwork; it's also a virtual world people use to collect information and interact with others. A wall is something a person can write on (though children have been using crayons to do this for years!) and the word "tinder" now also refers to a matchmaking app used by millions of smartphone users. Language becomes multilayered as people borrow words to describe new phenomena and make sense of new situations.
eReflect uses this blog post, focused on the ever-evolving nature of language and vocabulary, to emphasize how language is like a living organism, always open to new additions. Language is constantly re-imagined and redefined as people advance further in technology and other spheres.
"People are now eager to enhance vocabulary with new words such as selfie and NOMO as a way of keeping up with the dominant culture. Word power is not necessarily found in knowing obscure words and fancy expressions, it is also found in the new discourse that emerges due to technological advances and other grand developments," eReflect's spokesperson announced today.
To keep up with the fast-changing modern world, people need to improve their vocabulary by learning the new meaning of words such as "surf," "traffic," and "tweet" so that they are able to communicate efficiently. The eReflect editor concludes by saying, "You apply for college or a job online without thinking about it, but forty years ago you would never have thought you could download and install applications on devices to play games, educate yourself, listen to music, or book your flight tickets. The times they are a-changin'."
***********
For more information on how you can benefit from Ultimate Vocabulary, please visit its official website, http://www.ultimatevocabulary.com.
About Ultimate Vocabulary™
Ultimate Vocabulary provides a proven and powerful platform, built to improve anyone's vocabulary.
The interactive self-improvement system provides more learning tools than any other program on the market, as well as more information on words.
The Ultimate Vocabulary software provides each and every user with a personal computer tutor. Providing a step-by-step guide to learning a powerful vocabulary, Ultimate Vocabulary is the learning tool everyone can benefit from.
Of course, the software is also backed by eReflect's iron-clad money back guarantee.