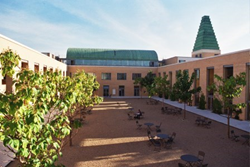 The programme will be an opportunity to mix with experts in the market, and learn first-hand about what is really going on in the upper echelons of global real estate
Oxford, United Kingdom (PRWEB UK) 11 March 2015
New Oxford executive programme and conference to help navigate challenging Real Estate sector
Saïd Business School says Real Estate market still "extremely uncertain" after the global financial crisis.
International real estate conference will address these challenges on Wednesday 18th March.
Saïd Business School, University of Oxford
A new executive education programme from Saïd Business School, University of Oxford, will help real estate professionals, policy-makers, and investors understand how to build and run successful and sustainable real estate businesses in the continuing turbulence following the global financial crisis and problems in European banking.
'The 2008 financial crisis was arguably a real estate crisis, and swept away a huge range of assumptions and standard practices in the market,' said Programme Director Professor Andrew Baum. 'Despite appearances, the sector is still extremely uncertain, with low interest rates supporting cash on cash yields and 'zombie businesses', while investors are still wary of over-leverage and banks are suspicious about lending to real estate developers. We are also facing growing internationalisation, an expansion of the asset class into social infrastructure and other real assets, and the rapid development of the sector in emerging markets.'
The Oxford Real Estate Programme, which will run for the first time 22‒25 June 2015, will focus on the issues shaping the real estate market today, including technology, globalisation, urbanisation, liquidity, and changing occupier preferences. It will ask questions such as:

Which "formats" will be popular in the future? Should investors and developers be looking at senior housing, student housing, entrepreneurs' hubs, or self-storage?
What impact will technology have on the offices of the future? How should real estate respond to the growing popularity of flexible working? What is the future of retail property with the rise in e-commerce?
What is the best capital structure? Can development make money? How should you build an investment portfolio?
The programme will be taught by real estate and finance experts from the University of Oxford, and draws on research in demographics, economics, cities, and private equity. It will also feature case studies and discussions presented by high-profile practitioners. These include Yair Ginor, Partner of Lipton Rogers (developers), and Peter Freeman, Argent, developer of King's Cross.
'The programme will be an opportunity to mix with experts in the market, and learn first-hand about what is really going on in the upper echelons of global real estate,' said Professor Baum. 'We'll be sharing technical knowledge but also considering where the market is heading, and what new models and structures are likely to emerge in the future.'
Ahead of the programme an International Real Estate Conference will take place on Wednesday 18th March at Saïd Business School, Oxford. You are invited to attend the conference.
With six panels and 30 speakers, the conference will look at the current real estate investment landscape and explore what the real estate universe will look like in 2025. Speakers will explore:
The impact of new technologies on real estate users and owners;
The most likely developing sectors and emerging geographies;
The competition to rival London as the world's most investable city;
How global investors will expect to be spending their mandated capital in the next 10 years.
Where are fund managers and investors targeting their capital?
Real estate education
Speakers include:
Sabina Kalyan, Chief Economist, CBRE Global Investors
Andrew Baum, Chairman, Property Funds Research and Professor, Saïd Business School, University of Oxford
Mark Pears, CEO, William Pears Group
Peter Freeman, Founder, Argent
Hugo Llewelyn, CEO, Newcore Capital Management
Faisal Butt, CEO, Spire Ventures
Samir Amichi, Managing Director, Blackstone
Robbie Meyer, Principal, M3 Capital Partners
Jeremy Plummer, CEO, CBRE Global Investment Partners
Jenny Buck, Head of Property and Alternatives, Tesco Pension Fund
Majid Mangalji, CEO, Westmont Hospitality
Simon Mallinson, Executive MD, EMEA, Real Capital Analytics
Peter Ferrari CEO, Ashby Capital
For more information, to attend the real estate conference or to arrange an interview with Professor Baum, please contact:
Jonaid Jilani, Press Officer, Saïd Business School
Mobile: +44 (0)7860 259996; Tel: +44 (0)1865 614678,
Email: jonaid.jilani(at)sbs.ox.ac.uk or pressoffice(at)sbs.ox.ac.uk
Kate Richards, PR Coordinator, Saïd Business School
Mobile: +44 (0)7711 000521; Tel: +44 (0)1865 288879
Email: Kate.richards@sbs.ox.ac.uk or pressoffice@sbs.ox.ac.uk
Notes to editors
1. About Saïd Business School
Saïd Business School at the University of Oxford blends the best of new and old. We are a vibrant and innovative business school, but yet deeply embedded in an 800 year old world-class university. We create programmes and ideas that have global impact. We educate people for successful business careers, and as a community seek to tackle world-scale problems. We deliver cutting-edge programmes and ground-breaking research that transform individuals, organisations, business practice, and society. We seek to be a world-class business school community, embedded in a world-class University, tackling world-scale problems.
In the Financial Times European Business School ranking (Dec 2014) Saïd is ranked 10th. It is ranked 14th worldwide in the FT's combined ranking of Executive Education programmes (May 2014) and 22nd in the world in the FT ranking of MBA programmes (Jan 2015). The MBA is ranked 7th in Businessweek's full time MBA ranking outside the USA (Nov 2014) and is ranked 5th among the top non-US Business Schools by Forbes magazine (Sep 2013). The Executive MBA is ranked 21st worldwide in the FT's ranking of EMBAs (Oct 2014). The Oxford MSc in Financial Economics is ranked 7th in the world in the FT ranking of Masters in Finance programmes (Jun 2014). In the UK university league tables it is ranked first of all UK universities for undergraduate business and management in The Guardian (Jun 2014) and has ranked first in ten of the last eleven years in The Times (Sept 2014). For more information, see http://www.sbs.ox.ac.uk/
ENDS