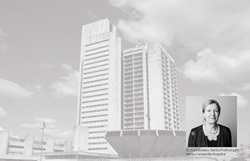 ...Digital Pathology has a future in the workflow for the pathologist.
Hoersholm, DK (PRWEB) March 09, 2015
After thorough testing, and internal clinical validation, Herlev University Hospital selects Visiopharm's ONCOtopix™ Dx – a platform for computer assisted quantitative diagnostic immunohistochemistry (IHC) and In-Situ Hybridization (ISH).
"Herlev University Hospital was the first diagnostic pathology lab in Denmark to adopt digital pathology and image analysis in routine clinical work. It has been important for us that we have been able to influence the software design and development from the beginning of the adoption process. Therefore, we have tested the individual components and the integrated solution thoroughly over the last two years. We have been able to demonstrate that digital Pathology has a future in the workflow for the pathologist. Furthermore, when Tissue Microarrays (TMA) are used it is possible to realize cost savings in the lab. We feel that the system is robust and mature enough to be used in the routine, and we will go into full production over the next few months", says Dr. Eva Balslev, Senior Pathologist at Herlev University Hospital.
ONCOtopix Dx was expanded with Visiopharm's TMAworkflow™, and a deep integration into the national, Danish AP-LIS system (CGI) enabling Herlev University Hospital to take full advantage of Tissue Microarrays in their daily clinical routine work.
ONCOtopix™ Dx, a truly open platform validated on major slide scanner and reagent manufacturers, provides an AP-LIS driven workflow to improve productivity. The workflow provides laboratory technologists with the tools necessary to handle all technical aspects of biomarker quantification. The quantitative immunohistochemistry and gene probe analysis results are then presented through the AP-LIS for review by pathologists. ONCOtopix™ Dx includes Visiopharm's CE-IVD marked algorithms for the breast panel. The algorithms include HER2, Ki-67, ER, and PR. More diagnostic algorithms are being developed and validated by Visiopharm for breast cancer, and other tumor panels.
About Visiopharm
Visiopharm image analysis software has become the preferred Quantitative Digital Pathology solution for leading biopharmaceutical companies, contract research organizations (CRO), research institutions, and for hospital diagnostic pathology labs around the world. Recently, Visiopharm has expanded to include ONCOtopix™ Dx a robust solution for cancer diagnostics with CE-IVD algorithms for the breast panel, integrated LIS driven workflow, and Virtual Double Staining. Our software is featured in over 800 scientific publications, and is compatible with leading slide scanner manufacturers, data management software, and a wide variety of microscopes and cameras.
Visiopharm, a privately owned company, was founded in 2001 by the Managing Director, and Chief Executive Officer, Michael Grunkin and the Chief Technical officer, Johan Doré Hansen, who both have a strong scientific and practical background in image analysis.
Our company has grown into an international business with over 500 licenses placed in more than 30 countries. Our growing network of authorized distributors and integration partners support the growth of Visiopharm solutions on several continents including North America, Europe and Asia. Our headquarters is located in the Medicon Valley of Denmark, with a branch office in the Netherlands, and a North America office in Broomfield, Colorado.