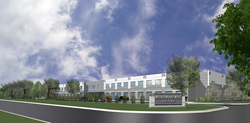 Frederick, MD (PRWEB) March 10, 2015
Matan Companies has announced their plans for a late spring 2015 groundbreaking of a brand new Class A High Bay Warehouse in Frederick, Maryland. The 30' clear, 103,000 square foot building is the first of 6 site plan approved buildings, totaling close to 700,000 square feet at Matan's Wedgewood West Industrial Park, located at the corner of New Design Road and English Muffin Way. Matan's 2.5 million square foot industrial portfolio in Frederick currently has a vacancy rate under 2%.
The decision to build this first of 6 buildings was made in response to a strong and sustainable increase in demand from a growing list of 20,000-40,000 square foot users, several of which Matan has under LOI.
"As the national Industrial Sector has improved, the surrounding Washington, DC markets, Frederick, MD included, are seeing a real turn-around," says JP Matan, Director of Leasing for Matan Companies. "A new industrial building in Frederick would have been unheard-of 18 months ago, but now it's time to be ready to respond to the increasing demand."
About Matan Companies
Matan Companies, headquartered in Frederick Maryland, is one of the region's premier commercial real estate services and development firms. Founded over 35 years ago on the principle of providing a comprehensive, full service approach, the firm's current portfolio consists of over 4.5 million square feet of office/industrial assets, 3 million square feet in the development pipeline, several active residential developments, and a separate portfolio of multifamily units. The company delivers a full range of services to their real estate investors and tenants including asset and property management, leasing, and tenant services. For the latest news from Matan Companies please visit mataninc.com.