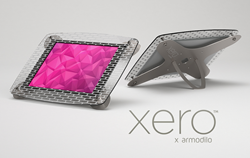 Xero provides our clients a more accessible tablet mounting solution with a highly customizable array of finishes, colours and options
Waterloo, Ontario (PRWEB) March 10, 2015
Award-winning tablet stand manufacturer Armodilo Display Solutions introduced its newest tablet enclosure design Xero at ExhibitorLive during the exhibit from March 2 – 4th in Las Vegas. Unlike Armodilo's Original line of fully enclosed tablet enclosures, Xero is an open concept tablet enclosure that allows access to the tablet's ports, buttons and peripheral options while securing the tablet.
Xero's unique patented design utilizes a resin front face which will be available in a variety of designer options (as well as fully brand-able options), combined with a high quality machined aluminum back plate. Incorporating the tablet in-between the two materials with Armodilo's high security screws creates a secure and highly refined appearance. An integrated, removable kickstand makes the new enclosure a perfect desktop companion for use in a variety of environments. Removing the kickstand allows the Xero tablet holder to be mounted to any of Armodilo's Original line of products including the: freestanding, curve, surface mount, wall mountable or Sphere™ tablet stands.
Xero will be available for a wide variety of tablets, which the rest of the Armodilo line has become synonymous for, including: Apple iPad, Android and Windows based tablets. A full list of compatible devices is available on the Armodilo website.
"The feedback on the new Xero design was beyond what we expected," says Iles Guran, Founder & President of Armodilo. "Xero provides our clients a more accessible tablet mounting solution with a highly customizable array of finishes, colours and options," Guran explains. "The new design provides organizations a highly sophisticated way to customize these new tablet mounting solutions to blend seamlessly into a wide variety of environments or stand apart for greater brand recognition."
With the introduction of Xero, Armodilo Display Solutions continues to provide brands highly sophisticated vehicles to deliver interactive content in a variety of settings such as: retail, healthcare, hospitality, education, trade shows, and events.
About Armodilo Display Solutions
Armodilo Display Solutions is a multiple award-winning tablet display manufacturer located in Ontario, Canada. With a variety of tablet display stands and accessories for trade show, event, retail and corporate markets, Armodilo sets itself apart by creating highly refined products for discerning brands around the world.
For more information about Armodilo, contact:
Iles Guran Founder & President
Armodilo Display Solutions
1-800-975-5946