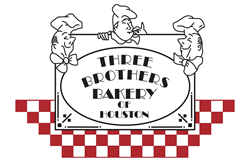 "We are very proud of our line of award-winning pies, and have more than a few tips and tricks that we're excited to share from our 65 year history in the business." - Robert Jucker
Houston, TX (PRWEB) March 10, 2015
To celebrate Pi Day on March 14, Three Brothers Bakery will be partnering with popular blogger, chef and Southern food connoisseur, Southern Bite, to answer any and all burning baking or pie-making questions that fans of both brands may have.
On Saturday, March 14, Three Brothers Bakery co-owner and 5th generation baker, Bobby Jucker, will take to the Southern Bite Facebook page for an hour, from 12:00 pm to 1:00 pm, to chat with its followers and offer his insight into their questions, such as how to create delicate latticework on any pie, or what kind of apples make the best filling.
To participate, Three Brothers Bakery fans simply need to "Like" the Southern Bite page, and submit any questions for consideration to be answered during the chat. Questions will be accepted during the hour-long chat, but are also encouraged in the days leading up to Pi Day. Followers can post their questions to either brand's Facebook page beforehand, and during the chat, questions and answers will be recorded in the comments section of the post, creating an ongoing conversation.
"We are very proud of our line of award-winning pies, and have more than a few tips and tricks that we're excited to share from our 65 year history in the business," says Bobby Jucker, bakery co-owner and fifth generation baker. "We are especially thrilled to partner with Southern Bite; Stacey Little has created an amazing community for passionate foodies, so I am looking forward to helping all of the at-home bakers out there perfect their Pi Day recipe."
Additionally, for every Pecan Pie sold through Three Brothers Bakery, either in-store or online, 10% of the proceeds will go to a charity that means a lot to Stacey Little of Southern Bite, St. Jude's Children's Research Hospital, all day Saturday and Sunday. When ordering, customers can ask for the "Southern Bite Pecan Pie," or look for the classic Pecan Pie on the Three Brothers Bakery website, to take advantage of the charity donation, and Three Brothers Bakery can ship all over the country. For all other varieties, the bakery will be offering a special discount of $3.14 for whole pies in honor of the day.
"Southern Bite is thrilled to be partnering with Three Brothers Bakery for this fun Facebook chat," says Stacey Little, founder and writer of Southern Bite. "My readers are passionate about cooking and baking, and I know Bobby will have some great tips to share with them."
For those looking for a store-bought option with a taste of home, Three Brothers Bakery offers apple, pecan, chocolate pecan, cherry, lemon meringue, pumpkin, and many more pie flavors, including its famous layered Pumpecapple Piecake, which can be shipped anywhere in the country. Following the Facebook chat, pie fans can visit the Southern Bite blog to enter a giveaway for a chance to win a Southern Bite Pecan Pie from Three Brothers Bakery.
For more information regarding Three Brothers Bakery, its partnership with Southern Bite, or any of its Pi Day items please contact Allison Huseman at 713-225-0880 or allison(at)integrateagency(dot)com
About Three Brothers Bakery
The traditions of Three Brothers Bakery began in Chrzanow, Poland circa 1825, and were preserved despite the family's concentration camp imprisonment during the Holocaust. Their miraculous liberation, and subsequent move to Houston, brought Eastern European scratch baking traditions to 4036 S. Braeswood Blvd, 12393 Kingsride Lane, and 4606 Washington Ave where the owners are now proud to call themselves "memory makers who just happen to be bakers." Perfecting the process for almost 200 years, each day the fifth generation bakers produce mostly dairy-free breads and pastries, cookies, a full line of specialty dessert cakes and pies, as well as custom birthday, special occasion, wedding and groom's cakes using only the highest quality ingredients.
The Three Brothers Bakery pecan pie was named "the best mail order pecan pie America has to offer" by Country Living magazine, bakery owner, Bobby Jucker competed in the popular 'Food Network Challenge' and has been seen on Food Network's Outrageous Food. Three Brothers won "Best Mail-Order Pies 2012" from Bon Appetit, as well as Modern Baking's "2013 Retail Bakery of the Year" and was part of The Knot's "2010-2013 Best of Weddings" and "Hall of Fame" picks. Most recently, Three Brothers Bakery was named #11 in "America's 50 Best Bakeries" by The Daily Meal, and was awarded the 2013 Jeffrey Butland Family-Owned Business of the Year by the Houston division of the U.S. Small Business Administration. Three Brothers Bakery is a certified Woman-Owned Business through the Women's Business Enterprise National Council, and a State of Texas Historically Underutilized Business.
Follow Three Brothers Bakery on Facebook and Twitter for Houston area news, information and events.