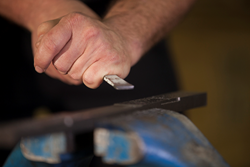 Charlotte, NC (PRWEB) March 10, 2015
Hand scraping maintains high levels of CNC machining accuracy and reduces wear and tear, resulting in a long, stable and productive life for the machine, as detailed in Okuma's new white paper. This manual process ensures that tight tolerances are consistently maintained and that precision CNC machining performance is sustained for years – therefore yielding the lowest cost-per-part.
Every Okuma CNC machine is traditionally hand scraped on each mating surface to set the foundation for consistent accuracy and long-term stability. Hand scraping assures the proper mating of two or more surfaces creating a custom flat surface. For components which traverse over a way surface, tighter tolerances can only be achieved by hand scraping. Hand scraping creates pockets that hold lubrication, resulting in less friction between the two mating surfaces.
The Hand Scraping Difference
Accuracy - Scraping is done to align components within millionths of an inch, allowing for consistently-held, tight tolerances.
Flatness - Contact points prevent rocking, add balance when tightening, and allow for true flatness in parts.
Oil Pockets - Oil on the surface allows gliding motion.
Appearance - The finishing touch of scraping is aesthetic. Parts are "design scraped" to achieve an attractive textured finish.
Okuma's hand scraping professionals utilize several specialized tools in a variety of motions. Hand pushing, "body power strokes," and curved scraping maximize the efficiency of the machine tool's operation. Hand scraping is a highly skilled art and is essential to creating a solid, efficient machine tool foundation.
Okuma's Hand Scraping white paper is available for complimentary download at http://www.okuma.com/hand-scraping-wp. You can also view our hand scraping video demonstration at https://www.youtube.com/watch?v=P5_a04uDYmQ. For more information on Okuma machine tools visit http://www.okuma.com.
About Okuma America Corporation
Okuma America Corporation is the U.S.-based sales and service affiliate of Okuma Corporation, a world leader in CNC (computer numeric control) machine tools, founded in 1898 in Nagoya, Japan. The company is the industry's only single-source provider, with the CNC machine, drive, motors, encoders, spindle and CNC control all manufactured by Okuma. Okuma's innovative and reliable technology, paired with comprehensive, localized service protection, allows users to run continuously with confidence – maximizing profitability. Along with its industry-leading distribution network (largest in the Americas), and Partners in THINC, Okuma facilitates quality, productivity and efficiency, empowering the customer and enabling competitive advantage in today's demanding manufacturing environment. For more information, visit http://www.okuma.com or follow us on Facebook or Twitter @OkumaAmerica.
# # #