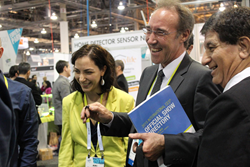 It's time to be generous and let everyone share in this - Nigel Sharp, CEO
Boston, MA (PRWEB) March 10, 2015
After an intense winter of customer facing events, from Financial Time Innovate America in New York to CES 2015 in Las Vegas, Lionsharp regrouped to implement what the market was demanding: a new Voiceboard™ ( http://voiceboard.info ) that was easier to experience. Nigel Sharp, CEO, reported, "Listening to feedback has driven this decision to let everyone worldwide freely try Voiceboard™, it's time to be generous and let everyone share in this exciting and game changing technology."
Without cutting off any features Voiceboard™ already offered, like all that interactive media support to enhance your slide decks that people liked, it is now easier than ever to try the new presentation experience on offer with this tool.
New Media support: Feeling limited by videos and pictures only?
Presenters will be able to boost their PowerPoints by simply adding apps like YouTube, live Twitter feeds, their own browseable Website, Google Maps, everything the internet has to offer, directly into their slides. With the ability to also display 3D models and manipulate them in real time, directly within Voiceboard™, presenters can now keep all their multimedia content organized in one place, ready to rock the stage.
New Controls: Deliver your presentation with the latest greatest devices!
Presenters can now use a wide range of controls to interact with their slides and engage their audiences: from the classic clicker to the ultimate convenience of their own mobile phones. The newest in voice and wearable gesture technologies, like Nod Ring, are still supported and set the long term vision, in this way Lionsharp can offer different experiences to balance comfort and the needs to make an impact, for the presenter's peace of mind. With this diverse range of controls, Voiceboard™ allows presenters to freely jump through their content, to quickly respond to questions or adapt the flow to the needs of the audience in front of them, all of this without leaving the stage or returning to their computer.
Voiceboard™ now comes with a free Mobile App that allows presenter to interact with the new types of media within the presentations simply using your own mobile phone, pricing has been simplified and made painless for the professional presenters who are looking to add new tricks to their pitches so in the end it's their few minutes of fame which are best remembered.
Lionsharp's focus has been on knocking down those last barriers that professional presenters in search of a novel presentation experience were asking for: easier hardware requirements and a trial version.
With a free Mobile App and a free trial professional presenters from around the globe have now the possibility to empower their slides with more engaging content, both offline and from the cloud, and try this all with a simple download here: http://www.voiceboard.info
To get more information about Voiceboard™, email community(at)lionsharp(dot)com or send a tweet @LionsharpCom, Full press kit available on request.