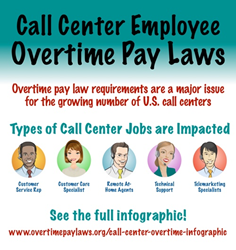 Understanding the Fair Labor Standards Act language for these workers is an important step to paying the required wages to all employees
(PRWEB) March 10, 2015
Overtime Pay Laws, an informational website on wage and hour laws for workers in the United States, has published the first Call Center Overtime Pay Infographic to demonstrate the important issues facing call center employers and employees today. Numerous overtime pay class action lawsuits have been filed in recent years for unpaid overtime wages against call centers. Many of these could have been avoided with a basic understanding of the Fair Labor Standards Act.
There are a number of different job titles and descriptions for call center employees. These include Customer Service Representative and Care Specialist, Remote At-Home Agents, Technical Support, and Telemarketing Specialist. The number of call centers located in the United States is growing every year.
Call center employers often fail or refuse to pay overtime wages to employees for tasks that are part of their required daily shift duties. Overlooked tasks that must be accounted for in the calculation of wages include booting up computers, loading software, downloading work instructions, connectivity issues, long calls beyond the shift period, and preparing reports. Many of these tasks require time spent before, during, and after a shift that must be calculated into the number of hours worked, even if the employee is "off the clock".
"Our infographic brings attention to the overtime pay law issues facing both call center employers and employees in the United States today. Employers can avoid costly lawsuits and litigation expenses by paying call center workers for every minute spent on job related activities. Understanding the Fair Labor Standards Act language for these workers is an important step to paying the required wages to all employees," says infographic creator and Attorney Lawrence J. Buckfire.
Launched in 2013, Overtime Pay Laws provides breaking news on important overtime pay law court decisions, recently filed cases, class action lawsuits, jury verdicts, and settlements. Additionally, Overtime Pay Laws serves as a resource to everyone interested in more information about Federal Wage and Hour Laws.
Overtime Pay Laws encourages the use of its infographic to help employers and workers call center overtime pay laws and to ensure employees are paid required wages under Federal laws.