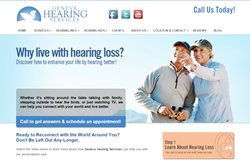 modern-day innovations in tinnitus therapy can provide much-needed and substantial relief for those troubled with the condition.
Geneva, Illinois (PRWEB) March 09, 2015
Geneva Hearing Services, an audiology practice located in Geneva, Illinois, is now offering the latest treatment options for those suffering with tinnitus.
Tinnitus is defined as the perception of sound where no external source is found to exist. Those affected often detail the sound as a persistent ringing, hissing, roaring, buzzing, or whooshing noise that is perceived either continuously or intermittently.
As stated by the American Tinnitus Association, tinnitus affects an estimated 50 million Americans, with an additional 30 million workers at risk for developing the condition together with noise-induced hearing loss. The chronic sound of tinnitus impairs cognitive function, attention, and overall quality of life for those affected.
The good news is, while not all cases of tinnitus can be cured or alleviated, modern-day innovations in tinnitus therapy can provide much-needed and substantial relief for those troubled with the condition.
The hearing specialists at Geneva Hearing Services have acquired expertise in the latest tinnitus treatments and are now offering these treatments to those in Illinois. Contrary to popular belief, several tinnitus therapy alternatives exist that are generally very effective. A hearing specialist can work with individuals to choose the optimum option for each particular case.
Therapy options include:

Treatment of an underlying medical condition, such as a blood vessel condition, can cure or alleviate tinnitus.
Hearing aids can generate the dual benefits of strengthening hearing and masking the tinnitus. This therapy is especially effective in those with untreated hearing loss that is causing the tinnitus.
Drug therapy, while unable to cure tinnitus, can offer relief in certain instances with certain medications.
Sound therapy creates white noise that can mask the tinnitus, making it less bothersome. Various devices can provide sound therapy, and a hearing specialist can help patients select the right one.
In addition, Dr. Maria Morrison, a Geneva Hearing Services audiologist, is one of only a few audiologists in the state who is clinically trained to provide TRT, or Tinnitus Retraining Therapy.
If you would like more information about tinnitus therapy, or if you would like to schedule an appointment for an evaluation, visit http://www.genevahearing.com or call the contact number below.
About Geneva Hearing Services
Geneva Hearing Services is a full-service audiology practice located in Geneva Illinois. Equipped with state-of-the-art technology and compassionate staff, Geneva Hearing Services offers comprehensive services including hearing tests, hearing aid evaluations, custom hearing aid fittings, hearing aid cleanings, rehabilitative counseling, preventive care advice, and service and repair for all hearing aid models. With services delivered in a relaxed and comfortable atmosphere, Geneva Hearing Services is Illinois' leading destination for better hearing.
Contact:
Dr. Maria Morrison, Au.D.
Geneva Hearing Services
(630) 618-2419
http://www.genevahearing.com
Location:
Geneva Hearing Services
637 W State St,
Geneva, IL 60134
(630) 618-2419