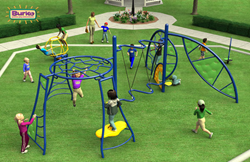 Fond du Lac, WI (PRWEB) March 10, 2015
BCI Burke, a leader in the playground, park and recreation industry, is proud to announce its partnership with Northstar Publishing, Inc. in The Great Giveaway sweepstakes. This contest will provide a community with a free, all-new Burke playground.
The BCI Burke playground includes new playground components from our Intensity® fitness product line, which is designed to challenge and exercise children's bodies while they play. The grand prize includes a $14,380 Intensity Fitness Playground including brand new products and two of our most popular spinning events.
To enter The Great Play Giveaway contestants will need to fill out a survey found on the Burke website. The contest runs March 1 until May 15, and the winner will be selected May 22. Everyone that completes the survey will receive a copy of the market research results, which alone could help shape the future of their park or camp and leave a lasting impact on their community. Visit http://www.bciburke.com/prb for complete sweepstakes details, terms and conditions.
Celebrating 95 years in the playground industry, BCI Burke's Reinventing PlayTM business focus showcases continual improvement and premium customer commitment. Since their inception in early 1920, Burke has been an avid champion of engaging kids and families in healthy, challenging and safe play. Visit http://www.bciburke.com for more information.