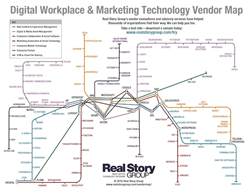 Boston, MA (PRWEB) March 10, 2015
Independent analyst firm Real Story Group follows its 8-year tradition of updating the Technology Vendor Map, tracking more than 150 global vendors competing across seven different technology areas:

Web Content & Experience Management
Digital & Media Asset Management
Enterprise Collaboration & Social Software
Marketing Automation & Social Technology
Enterprise Mobile Technology
Enterprise Portal Technology
ECM & Cloud File Sharing
This year, RSG found four key trends:
1. There is no such thing as a single digital workplace or digital marketing platform
A single platform or a single suite that will give a customer everything they need simply doesn't exist, so digital leaders need to become conversant in multiple technologies.
2. Some technologies apply to both digital workplace and customer engagement architectures
However, the way customers use these technologies can differ dramatically depending on whether the key stakeholder is an employee or a customer/partner; therefore, enterprises typically employ different solutions for internal- vs. outward-facing use cases.
3. These are highly fragmented marketplaces
Customers have a lot of choices — many of them good choices — but it takes quality research to uncover the best-fitting choice.
4. Most innovation happens at the periphery rather than the center
Smaller vendors continue to drive innovation; while Microsoft has largely abandoned digital marketing use cases, IBM, Oracle, and Adobe have tended to acquire rather than build new capabilities.
You can find the map here in the following formats:
Get a large JPG
Download a high-resolution PDF
About:
Real Story Group provides research and advisory services to help customers select and optimize the right digital workplace and marketing technologies. Through highly detailed technical evaluations, Real Story Group helps sort out the complex technology landscape, so that customs can minimize time and effort identifying the best-fit solutions. Real Story Group evaluates Web Content Management, Digital & Media Asset Management, ECM & Cloud File Sharing, Enterprise Collaboration & Social Software, Enterprise Mobile Technology, Portals and Content Integration, and Marketing Automation & Social Technologies.
To retain its independence as an impartial analyst firm, Real Story Group works solely for solutions buyers and never for vendors.