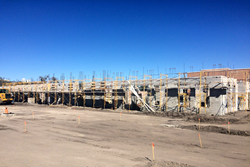 Orlando, FL (PRWEB) March 10, 2015
Naples Hotel Group, a leading hotel management company located in Naples, FL, has announced construction is underway for Hampton Inn & Suites ORMC in downtown Orlando. Naples Hotel Group has the contract to oversee development and management with owners CJP Columbia Properties Hotel LLC. As part of the contract, NHG will assist in the overall development of the project from design through to construction and manage all aspects of the opening and operations. The two companies also have a Fairfield Inn & Suites under construction near the University of Central Florida in Orlando. The general contract for the building of both hotels has been awarded to Pinkerton & Laws.
The hotel is located across the street from Orlando Regional Medical Center on West Columbia Street. This location is conveniently located near downtown Orlando. The property will have 126 rooms and suites and will stand six stories tall. Some featured amenities of the hotel include a pool, fitness area and expanded meeting room space. Hotel anticipates an opening within the next 12 months.
For more information or media inquiries, contact Brittany Bou-Sliman at brittany(at)napleshotelgroup(dot)com or 239-206-4273.
About The Naples Hotel Group
Naples Hotel Group is an independent owner, operator, and third-party manager of distinctive hotel properties. Since its inception in 1999, they have achieved superior results and proven ability to enhance performance and/or turnaround properties through the use of their experience, responsiveness and extensive resources. NHG, based in Naples, Florida, prides itself on building long-term relationships with quality people and organizations. The formation of Naples Hotel Group allows them to offer their expertise from more than a decade of experience managing their own hotel properties throughout the United States. To learn more visit,
http://www.napleshotelgroup.com.