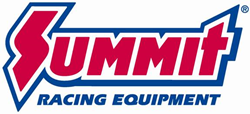 (PRWEB) March 12, 2015
Off-road enthusiasts can enhance their vehicles' off-road prowess with these new products from Summit Racing:
Trail-Gear Off Road Components for Toyota Trucks and SUVs
Toyota is known worldwide for making rugged and reliable off-roaders. Summit Racing now offers Trail-Gear off-road components for most popular Toyota trucks and SUVs including ring and pinion gear sets, transmission and engine mounts, bumpers, rock sliders, and much more.
Daystar Stinger Adjustable Bump Stops
Daystar Stinger Bump Stops serve as the final safeguard against excessive suspension travel. They're the perfect complement to modified suspensions, offering critical protection from metal-on-metal impacts that could destroy expensive chassis components.
Hughes Performance Street And Strip Automatic Transmissions for 4WD Vehicles
Featuring upgraded internal and external components, Hughes Performance Street and Strip Transmissions are able to support the increased power and torque from an upgraded engine. More importantly, the transmissions' durable construction is better suited to the rapid throttle fluctuations found in an off-road environment.
Summit Racing Equipment
SummitRacing.com
1-800-230-3030