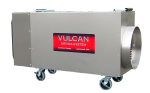 Stoney Creek, Ontario (PRWEB) March 10, 2015
WalkersClub Canada, an abatement equipment seller based in Stoney Creek, Ontario, has announced the launch of several new tools for contractors. The news was made public this week to highlight their efforts to service businesses and industries as the spring season approaches. The company's intent is to provide a variety of options for contractors and abatement specialists who face complex cleanup and maintenance issues found in various workspaces.
Among the new line of tools is water filtration equipment. WalkersClub Canada offers a filtration system known as OmniFlow - a branded filter from Omnitech Design, Inc. It's designed to purify water contaminated with harmful compounds found in projects where asbestos and lead is present. The pump is capable of operating dry without suffering any damage, and offers a high suction lift along with a 45 psi discharge pressure.
The second product in their lineup of products is Vulcan-branded drying equipment. The devices they offer are portable, lightweight, and programmable (Vulcan RT). They feature six industrial heating elements which allow for a 11kW drying capacity. The units also come equipped with auto-safety shutoffs to preserve them if internal heat rises above the temperature of 180 F.
As the spring season nears, construction activity will increase, and so will the occurrence of construction-related complications. WalkersClub Canada has decided to expand their service to both these businesses and the contractors they serve. By providing specialists with a broader range of abatement equipment, they will have more to offer to their clients in the range of maintenance.
About WalkersClub Canada
WalkersClub Canada is an abatement equipment retailer based out of Stoney Creek, Ontario. For over 20 years, the company has sold a wide range of tools for contractors who are working within a variety of construction-related industries. This includes asbestos/lead removal equipment, safety gear, fall protection, soundproofing, and more. The company plans to continually expand their product offerings by providing more tools for contractors who are faced with a variety of challenges on the construction site.