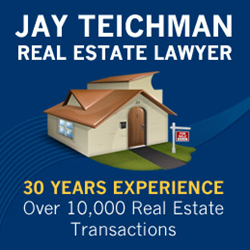 Toronto, Ontario (PRWEB) March 10, 2015
The Toronto condo market is drawing eyes from investors and legal experts from all around the world. The Canadian housing market has seen major surges of activities in Vancouver and Toronto. Even professionals can find it difficult to tell whether these activity levels are the sign of a healthy, booming market, or simply a spike before a sudden crash. In Toronto especially, the levels of activity are shocking, and the condo market is in flux. To make matters worse, many Canadians in the Greater Toronto Area are not even aware how a real estate lawyer can help them with such a transaction. Your Toronto real estate transactions have a serious element of risk. However, most Canadians are not aware of this risk, or how they can mitigate it. In order to change that trend, veteran real estate and condo lawyer Jay Teichman is leading the charge on a public education initiative to educate people about the ins and outs of the Toronto real estate market. These articles will plainly state the facts in layman's terms, and they should help bring both the good and the bad of Toronto real estate to light. With the field being so complicated, and the stakes so high, Jay Teichman believes that this education initiative is an essential measure.
The Toronto real estate market has been making headlines again and again within the last few months. Everything about the recent developments have been raising eyebrows, from a series of class action lawsuits against condo developers for safety issues or misleading floor plans to a new trend of 'microcondos' that promise to revolutionize the condo industry. There is a lot of marketing jargon and legal talk around all of these issues, making it difficult for your average person to understand exactly what's going on. The perspective of a real estate lawyer is sorely needed in such a situation, phrased in a way the average Toronto reader can understand. That is exactly what Jay Teichman's new education initiative will offer, helping Canadians with explanations on how to handle real estate paperwork and avoid running into costly fees - or worse consequences. These articles will serve as an invaluable starting point for Canadians who are new to the real estate market and not sure where to get started. For more information on Jay Teichman's experience, services, and career, visit his website at http://www.jayteichman.com/, or call his offices at 647 476 2262.