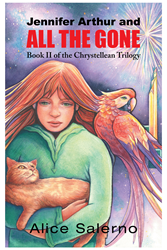 It appears more and more certain that we create what we give our attention to.
FAIRFIELD, Calif. (PRWEB) March 11, 2015
After doctors diagnosed her advanced-stage breast cancer as terminal, author Alice Salerno started writing as a means of channeling a life parallel to the seemingly shortened one she was currently living. Undeterred by her diagnosis, Salerno maintained a positive outlook on life and her continued personal interest investigating hopeful intimations of quantum physics.
Despite forgoing radiation and chemotherapy treatment in hopes of a better quality of life, Salerno is now miraculously cancer-free, and has published a new fantasy novel, Jennifer Arthur and All the Gone.
Picking up where her first book in the Chrystellean Trilogy, A White Hole in Space, left off, Jennifer Arthur and All the Gone begins when Jennifer "Jenny" Arthur and her marmalade cat, Atta Girl, find themselves sucked into an alternate dimension through a white hole in space, without a way to get back home. While in the colorless White World, Jenny and her colorful cat reunite with their intergalactic friends to solve the planet-wide crisis of disappearing children.
Salerno's masterfully created world reaches out to readers with a subtle invitation for them to color their own worlds with creatively positive thought patterns. Aiming to alleviate the alarming rate among young people toward destructive relationships and even near-epidemic suicides, she hopes to counteract the overwhelmingly dystopian trend in much of today's literature.
"It appears more and more certain that we create, both in our personal worlds and our entire world, what we give our attention to," Salerno said.
Jennifer Arthur and All the Gone
By Alice Salerno
ISBN: 978-1-4582-1670-0
Available in hardcover, softcover and e-book
Available on Amazon, Barnes & Noble and AbbottPress
About the author
Alice Salerno has lived most of her life in the San Francisco Bay Area. She has an associate's degree in arts from Solano College, but served as an advertising director for one of the world's largest retailers throughout her professional career. She later opened her own advertising and public relations agency. She enjoys writing poetry, editing and being a great-grandmother, and has been married for 64 years. She is presently writing the third book of the Chrystellean Trilogy.
###
**FOR IMMEDIATE RELEASE**
For review copies or interview requests, contact: Jennifer Uebelhack
317.602.7137
juebelhack(at)bohlsengroup(dot)com