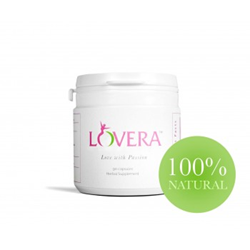 "LOVERA's formula contains all natural herbal ingredients that enhance a woman's appetite for life by balancing hormonal levels naturally"
Los Angeles, CA (PRWEB) March 11, 2015
FOR IMMEDIATE RELEASE March 10, 2015 - LOVERA, the life-changing natural supplement that is made from an exclusive blend of 100% natural and organic ingredients, is now available in the United States. LOVERA was originally developed in Switzerland before being clinically tested by Dr. MD Rainer Pawelke in Germany, where it is also manufactured. One of the major benefits of LOVERA is that it is an attractive alternative to hormonal treatments with subscribed medication, many of which typically have significant side effects. LOVERA, on the other hand, has no side effects at all and contains 100% natural ingredients.
LOVERA's formula contains all natural herbal ingredients that enhance a woman's appetite for life by balancing hormonal levels naturally. Not only will this help relieve symptoms of menopause, but it can also re-ignite her passion and overall sense of desire. LOVERA was created to liberate and empower women around the world, allowing them to have desire, love, passion and harmony. LOVERA is a world category leader with regards to balancing a woman's hormones and naturally enhancing her body and spirit.
In a study conducted by Dr. MD Rainer Pawelke of women between the ages of 33 and 65, the doctor indicated that "The results were outstanding. The women typically experienced 95% improvement of lubrication, 86% experienced a better intimate experience, 75% of women had less menopausal symptoms and 96% said they experienced no side effects at all during the three month period taking this supplement. I have never seen that before." The full list of active 100% all natural ingredients in LOVERA is as follows: L-Arginine, Maca, Catuaba Bark, Soy Isoflavones, Pomegranate Extract, Damiana, Vitamin B6, Vitamin B, Folic Acid B9, Vitamin B12 and Vitamin E.
LOVERA is the passion project of Khadija Donatelli Neumann, who is both a Senegalese model, mother and entertainment personality. She is also known commonly by her modeling name, Khadija. Many notable clothing designers, photographers and other fashion photographers have described her as the top model in Senegal, which places her high in the running for one of the top models worldwide.
One of the most important factors about LOVERA is that a portion of the proceeds from every sale of the supplement go to support KPLCE - Katoucha pour la lutte contre l'excision. In English, the name of the charity translates to "Katoucha for the battle against female circumcision." It is a philanthropic organization that was started by fashion model Katoucha Niane in 1994, who herself was a victim of female circumcision at the age of nine years old. After Niane's untimely death in 2008, Khadija Neumann took up the cause and continues to support the organization in every way that she possibly can to this day.
To find out more information about LOVERA's entry into the United States marketplace, to learn more about founder Khadija Neumann or about the charity that she supports, please visit http://www.lovera.com today.
Twitter: lovera_health
Instagram: getlovera
Facebook: LoveraHealth
Press Inquiries:
Jody Green
Frame Public Relations
jody(at)frame-pr(dot)net
917 292 7070