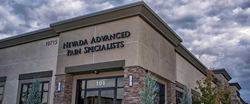 Our goal has always been to provide easier access to better healthcare
Reno, NV (PRWEB) April 04, 2015
The Reno Back Pain Doctors at Nevada Advanced Pain Specialists have expanded their patient care and are now seeing patients in Carson City and South Lake Tahoe, in addition to their offices in Reno and Sparks, Nevada.
"There is a growing need for effective pain relief, and we are responding to that need," said Dr. Denis Patterson. "When a person is dealing with pain, time is of the essence, and we want to ease the burden of travel by offering these two new care locations."
Patients will now been seen for treatment out of Barton Health's clinics in Carson City and the Zephyr Cove region of South Lake Tahoe. Appointments for pain management services at both of these clinics can be made by calling (775) 284-8650, or by emailing admin(at)nvadvancedpain(dot)com.
"Our goal has always been to provide easier access to better healthcare," Patterson said. "We evaluate and treat pain using a range of state-of-the-art technology and pain relief methods. We create treatment plans unique to each patient."
Nevada Advanced Pain Specialists is recognized as an industry leader in pain management and provides a comprehensive, multi-disciplinary approach to each ailment. Every individual is evaluated for the root cause of his or her pain -- not just a quick-fix approach that may provide only temporary, symptomatic relief.
Nevada Advanced Pain Specialists employs a methodical and physical medicine-oriented approach to care that includes the analysis of biomechanics and joint motion, as well as skeletal, nerve and muscle tissues. The very latest diagnostic tools and technologies are used to reach the center's goals:
● To treat the source of pain, rather than merely its symptoms
● Reduce pain and suffering
● Return patients to maximum functioning and independence
● Restore quality of life
● Identify non-surgical treatments to reduce rehabilitation time
For more information, go to http://www.nvadvancedpain.com or call (775) 284-8650 to make an appointment with a pain management specialist.
Carson City Clinic:
935 Mica Drive
Suites 13-15
Carson City, NV 89705
South Lake Tahoe Clinic:
212 Elks Point Road
Suite 200
Zephyr Cove, NV 89448
Nevada Advanced Pain Specialists
10715 Double R Blvd, Suite 101
Reno, NV 89521
(775) 284-8650