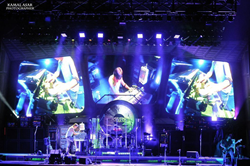 Anderson, Indiana (PRWEB) March 11, 2015
Hoosier Park Racing & Casino announced Monday its initial lineup of annual summer concerts. Performers include the Charlie Daniels Band and Travis Tritt, BOSTON, and REO Speedwagon in a series of national headlining acts taking the Hoosier Park outdoor music center stage. Additional performers and concert dates will be released in the coming weeks.
BOSTON became an iconic rock fixture when they joined the music scene with their self-titled album in 1976. With more than 17 million copies sold, BOSTON generated hits such as "More Than a Feeling," "Peace of Mind," and "Smokin'," becoming rock staples that are still in heavy rotation today. Their second album, Don't Look Back was another chart-topper that confirmed their place in rock history. That album was followed by Third Stage, which hit #1 on the charts, with the top single of 1986, "Amanda." With more than 31 million albums sold to date, BOSTON has stood the test of time, as evidenced by live audiences that span generations.
From his Dove Award-winning gospel albums to his genre-defining Southern rock anthems and CMA Award-winning country hits, few artists have left a more indelible mark on America's musical landscape than Charlie Daniels. The Charlie Daniels Band has populated radio throughout the years with such memorable hits as "Uneasy Rider," "Long Haired Country Boy," "The South's Gonna Do It Again," "In America," and "The Legend of Wooley Swamp." In 1979, the Charlie Daniels Band received a Grammy for Best Country Vocal by a Group and Single of the Year award by the CMA for their signature song, "The Devil Went Down to Georgia." Over the course of his career, Charlie has received numerous accolades, including induction into the Grand Ole Opry and Musicians Hall of Fame.
Travis Tritt incorporates the best of his lifelong influences from southern rock, blues, and gospel into his signature brand of country music. His 1990 debut album Country Club and its succession of hits such as "Country Club," "Help Me Hold On," "I'm Gonna Be Somebody" and "Drift Off to Dream" put him in the vanguard of the genre's early '90s boom. At the same time, his conspicuous lack of a cowboy hat and musical aggressiveness set him apart. The next eight albums and scores of hit singles led him to amass more than 25 million in career album sales, two Grammys, three CMA Awards and a devoted fan base that fill venues coast-to-coast.
What started as a college band in the late '60s, REO Speedwagon built a loyal fan base touring the Midwest, jumpstarting the rock movement in the area. With Platinum albums and FM radio staples such as "Ridin' The Storm Out", REO set the stage for 1980's explosive Hi Infidelity album. Hi Infidelity's millions in sales were fueled by massive hit singles such as "Keep On Loving You" and "Take It On the Run." Thirty-plus years later, the nine-time certified platinum Hi Infidelity still remains a high-water mark for rock bands. The classic album spent 15 weeks in the #1 slot, an accomplishment simply unattainable in music today. REO rode the top of the charts with a RIAA-certified 22 million albums sold in the U.S. and 40 million around the globe, with a string of gold and platinum records and international hit singles.
All summer concerts are scheduled to begin at approximately 8:30 p.m.

Friday, June 5: Charlie Daniels Band & Travis Tritt
Friday, August 7: BOSTON
Saturday, August 15: REO Speedwagon
The Hoosier Park outdoor music center accommodates up to 4,500 reserved ticket seats. The music center features a wide variety of ticket options, including premium VIP seating and private party decks complete with personal beverage service.
All concert tickets go on sale Saturday, March 28 at 10 a.m. and can be purchased through Ticketmaster by calling 800-745-3000 or by visiting Ticketmaster.com. Concertgoers may also purchase directly from the box offices located in Shelby's Gifts at Hoosier Park Racing & Casino or the Logo Shop located at Indiana Grand Racing & Casino. Club Centaur and Grand Rewards members will receive a special discount on tickets purchased at their respective box offices.
About Hoosier Park Racing & Casino: Hoosier Park Racing & Casino, a Centaur Gaming destination, holds multiple awards from industry publications for customer service, entertainment, gaming and dining. Hoosier Park Racing & Casino, a fully integrated gaming and racing facility, features 2,000 of the latest slots and electronic table games and a 7/8 mile oval horse track offering live harness racing each year. Simulcast wagering is offered year-round at Hoosier Park Racing & Casino, the Winner's Circle Pub, Grille & OTB in Indianapolis, the Winner's Circle Brewpub & OTB in New Haven and an off-track betting facility in Merrillville, Ind. For more information, please visit http://www.hoosierpark.com or http://www.centaurgaming.net.