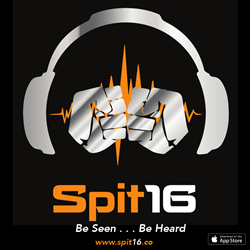 Every post on Spit16 brings raw talent, contagious energy and unadulterated passion straight from an artist's heart and soul through your screen. Polishing is for studios and engineers and when inspiration strikes, it needs to be captured in the moment.
New York, NY (PRWEB) March 11, 2015
Hip Hop music is relatively new compared to other genres, but its influence on popular culture and society is evident throughout the world. The Spit16 app recognizes hip hop's impact and provides a unique stage for artists everywhere to display their talent. Until now, artists looking to utilize social media had to either settle for a few seconds worth of video or have their video lost in a sea of unrelated posts and clips. The existing music recording apps provide little public interaction and virtually no creative customization. The Spit16 app solves all those problems and on March 16th will release in the Apple App Store.
Spit16 users can record an original video through the app, up to a full minute long. The app provides over 20 features and filters artists can use to make each video truly unique. It's one take of up to 60 seconds of uncut, organic musical ability.
Once recorded, a video is posted to a main feed on the app. That's where the social media aspect kicks in and where Spit16 stands alone. As a user you can scroll through the timeline, watch a video post and if you like what you see and hear, you drop a "flame" on the post. The number of flames for each post serves as a measure of popularity. You can also comment on the post and if you want to support that artist, you can easily share a link to the video through your other social media accounts. Artists can even save their videos to use in other forums to promote themselves, but each video contains a distinct Spit16 "stamp of approval" watermark.
One of the creators of the app, Andrew Wisniewski, is a former professional basketball player who says Spit16 is more than just a new business venture for him. "Growing up in New York City, hip hop and basketball were always connected and a lot of my friends were rappers and artists. People could always come to a game to see me play, but it wasn't nearly as easy to see and hear someone rap or sing. I wanted to find a way to give all those talented artists their own court to play on."
While in beta for only the last 2 months, Spit16 has already gathered more than 100 artists with a combined following of well over 1 million people. Artists hail from US cities ranging from New York to Memphis to Denver, as well as international locations such as Ireland and Brazil.
In the increasingly crowded highway of mobile applications racing towards success, it's difficult to stand out. Spit16 has managed to set itself apart by creating a social media lane constructed specifically for hip hop music. With recording options that can't be found anywhere else, the Spit16 app gives every artist a golden opportunity to: Be Seen… Be Heard.