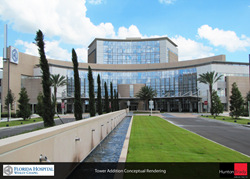 The community has shown us both the need for the hospital and their confidence and appreciation for the high quality care our staff delivers.
Wesley Chapel, Florida (PRWEB) March 09, 2015
Florida Hospital Wesley Chapel will begin construction this year on a $78 million expansion that will nearly double the size of patient rooms, operating rooms and emergency rooms.
"Florida Hospital Wesley Chapel was originally designed with the ability to grow with the needs of the community," said Chief Medical Officer Robert Rosequist, MD. "Since opening less than three years ago, the hospital has experienced extremely high volumes of patients seeking care."
The 200,000 sq. ft. hospital opened October 1, 2012 with 83 inpatient rooms, 18 emergency rooms, a Catheterization Lab and 5 operating rooms. The cost of the land and construction of the hospital and adjacent medical office building was $161 million.
"The community has overwhelmingly shown us both the need for the hospital and their confidence and appreciation for the high quality care our staff delivers every day," said President and CEO, Denyse Bales-Chubb. "We are so blessed by their faith in us and we know need to grow to meet both the current demands and future growth of the community."
The expansion involves 111,993 square feet of new construction and 10,834 square feet of renovation. This will add three additional floors to the hospitals center wing and add an additional three-story wing that will connect the south and center wings.
In the expansion, Florida Hospital Wesley Chapel will add additional emergency rooms, inpatient rooms, surgical suites and related surgical services, Heart Catheterization Lab, and recovery/observation rooms as well as shelled space for future growth.
Robins & Morton, founded in 1946 is the privately held construction and engineering company in charge of the expansion. Robins & Morton is the same construction company who built Florida Hospital Wesley Chapel from the ground up.
Construction is expected to begin this summer with the expansion opening at the end of 2016. A groundbreaking ceremony will be held on August 5th at 10 a.m.
About Florida Hospital Wesley Chapel
Florida Hospital Wesley Chapel is an 83 all-private bed hospital. Built from the ground-up, this full-service community hospital features expert staff, specialty design and state-of-the art technology built for better patient care. The hospital features state of the art imaging and surgical equipment, much of it first in the region. Services include an emergency department, cardiac care, vascular surgery, orthopedics and sports medicine, women's services and gynecology, obstetrics, urology and nephrology, outpatient imaging, outpatient physical and occupational therapy, The Center for Women's Health and a free-standing Health & Wellness Center. The hospital's Wellness Plaza also houses offices for primary care and specialty physicians. Part of Adventist Health System, Florida Hospital is a leading, not-for-profit health network comprised of 23 hospitals throughout the state. For more information, please visit http://www.FHWesleyChapel.org.