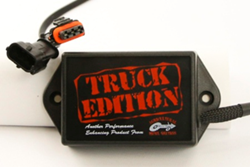 Truck Edition module owners love their trucks, and we're excited to see the creative videos that passion inspires.
Des Moines, Ia. (PRWEB) March 10, 2015
Area Diesel Service, Inc. this week announced a YouTube video contest for customers who purchase a Truck Edition module. The contest is an open call for brief videos that creatively capture the reasons participants choose the Truck Edition module. The grand prize is a $1,000 giveaway, and all entrants selected as semifinalists will be awarded $50 cash prizes.
As Area Diesel Service Iowa Branch Manager Corey Stallings noted, the company is excited to see the response to the contest: "We're looking forward to watching the videos contestants submit. We know how much Truck Edition owners love their trucks, and we're excited to see the creativity inspired by their passion for more powerful, more efficient performance."
Truck Edition Module Contest Rules
The YouTube video contest is open to any Truck Edition module owner, whether the module was purchased from the Area Diesel Service website or from another supplier. Stallings stated, "Entering the contest should be easy for just about anyone, no matter how tech savvy. If you can upload a video, you can take a shot at the $1,000 prize."
Interested parties, who are at least 18 years old, can participate by completing just four steps by Aug. 1, 2015:
1. Install the Truck Edition module.
2. Record a 1-minute to 3-minute video stating why you love the module. Area Diesel Service encourages entrants to be as creative as possible and have fun with the videos.
3. Upload the video to YouTube, using "Truck Edition" in the video title.
4. Email Area Diesel a link to the video, along with your name, address and phone number: TruckEditionModules(at)gmail.com.
Each month from March through July 2015, Area Diesel representatives will hold a drawing to randomly select one entrant as semi-finalist. In addition to qualifying for the grand prize, semi-finalists will receive a $50 cash prize. On August 14, 2015, the company will select the winner of the $1,000 grand prize.
About Truck Edition Modules
Known for diesel engine replacement parts and performance products, Area Diesel offers a range of high-quality, affordable diesel parts—from turbochargers to fuel economy upgrades to engine modules and more. Engineered to improve performance of any sized diesel engine, Truck Edition modules are made for light-duty, medium-duty and heavy-duty trucks. The modules, also available for agricultural diesel engines, feature plug-and-play design for easy installation in minutes.
"Customers count on us for innovative diesel performance products," said Stallings, "and the Truck Edition module is a prime example of our results-driven products." The performance improvements Stallings alluded to are both impressive and verifiable.
Specific results vary slightly from module to module, though the company has verified that the following ranges hold true for all Truck Edition modules:

Improve overall engine power, boosting horsepower up to 35%
Increase fuel efficiency by as much as 10 - 20% while offering on-the-go, load-based tuning for optimal efficiency
Come with a lifetime warranty
Analyze engine data at a rate of more than 100 times per second
Feature a slow-cure epoxy resin seal to eliminate damage from humidity, corrosion, and vibration
Tolerate extreme temperatures, using industrial-rated electrical components
Meet emission standards and avoid overriding emissions controls
For more information on Area Diesel Service or for details on the Truck Edition YouTube video contest, visit areadiesel.com or contact Corey Stallings at CoreyS(at)areadiesel.com. To see the latest information on innovative diesel performance products and diesel engine replacement parts, follow Area Diesel Service on Facebook, Google+ and Twitter.