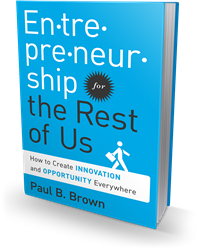 The entrepreneurial mindset is a protection against economic uncertainty.
Boston, MA (PRWEB) March 10, 2015
"The entrepreneurial mindset is a protection against economic uncertainty." – Paul B. Brown
Given how fast the world is evolving, people have to be responsible for their own lives: you are the only person who can determine whether you will thrive in this economy going forward. You may not decide to become an entrepreneur, but whether you do or don't, analyzing what makes a successful entrepreneur and acting on these principles, can help everyone take control of their own working lives and adapt successfully.
In ENTREPRENEURSHIP FOR THE REST OF US: How to Create Innovation and Opportunity Everywhere (Bibliomotion, March 10, 2015), veteran New York Times columnist Paul B. Brown examines how the most successful entrepreneurs think, act, and lead in the face of uncertainty. In it, he draws on three decades of experience as a journalist with access to some of the greatest business minds of our time, and presents a series of lessons and "how-tos" that can benefit both individuals and leaders at companies of all sizes.
Using his "Act-Learn-Build-Repeat" model, Brown shares some ways anyone can create opportunities:
1. Focus on your goal, not on the plan you initially drew up to get there. Accept the fact that the way you get there may become different from the path you thought you were going to follow.
2. Don't rely on predictions. In today's world, the key to success is exploiting the contingencies and leveraging the uncertainty by treating unexpected events as opportunities.
3. Plan B: Accept that your fallback position could end up being more valuable than your original idea. For example, 3M developed an adhesive that fails to stick all the time, and turned it into the basis of the Post-it Note.
4. Create a barrier for competition by running headfirst into a problem. For example, when other hotel chains began building hotels in the best locations, Isadore Sharp set the Four Seasons apart by creating a guest loyalty program for frequent travelers.
With these straightforward and easy-to-follow steps, Brown shares forward thinking tactics that help entrepreneurs identify a market need and get their product into the hands of customers. Whether it's funding a startup, marketing a new product or idea, or creating lifelong customers, Brown's insights and real-world examples will help anyone take risks, overcome challenges, and stay ahead of the competition – just like an entrepreneur.
ENTREPRENEURSHIP FOR THE REST OF US: How to Create Innovation and Opportunity Everywhere
Author: Paul B. Brown
Publisher: Bibliomotion, Inc.
Publication date: March 10, 2015
Hardcover ISBN: 978-1-62956-055-7
eBook ISBN: 978-1-62956-056-4
Price: $26.95
One of the country's leading authorities on entrepreneurship, Paul B. Brown has been researching, interviewing and writing about people who start companies for more than 30 years. (How devoted is he to the subject? He is married to an entrepreneur.)
A long-time to contributor to The New York Times, where he created Tool Kit (a small business resource for NYTimes.com), Paul also writes the popular Create Your Future blog for Inc.com.
He has written, co-written and "ghosted" numerous business book best-sellers including Customers for Life (with Carl Sewell.)
Paul, is a former writer and editor for Business Week, Financial World and Forbes where he was head of the magazine's coverage of entrepreneurs.
He and is a graduate of Rutgers College and Rutgers University Law School and is a member of the bar, but he asks that you don't hold that against him.
He lives in Anna Maria, Florida.
Advance Praise for ENTREPRENEURSHIP FOR THE REST OF US
"I believe entrepreneurship has to the power to go a long way toward providing the future we as individuals and corporate businesspeople aspire to have. Innately, we are all entrepreneurs, but too few of us get to practice it. Entrepreneurship for the Rest of Us can help change that."
– Leonard A. Schlesinger, Baker Foundation Professor, Harvard Business School
"In searching for ways to become more innovative, there is no better role model than successful entrepreneurs—people, who by definition, have created something that did not exist before. In Entrepreneurship for the Rest of Us, Paul B. Brown explains simply and in detail how they think so we can learn from their success. Everyone from Fortune 100 executives to potential entrepreneurs can benefit."
– Andrea Coville, president and CEO, Brodeur Partners
"I have spent my professional life working with high-performing success individuals, many of them of entrepreneurs. Paul B. Brown has how they think down to a T."
– Dr. Steven Berglas, 30-year faculty member of Harvard Medical School's Department of Psychiatry, advisor to corporate CEOs
"Act. Learn. Build. Repeat is invariably the model the most innovative companies follow on the road to success. Paul B. Brown not only explains how the model works, but how everyone—entrepreneurs and corporate business people—can apply it and make their professional lives better."
– Julian E. Lange, associate professor of entrepreneurship and public policy, Babson College
About Bibliomotion:
Bibliomotion is a book publishing house designed for the new publishing landscape. While many publishers work to retrofit old processes for new realities, Bibliomotion was founded by book-industry veterans who believe the best approach is a fresh one – one that focuses on empowering authors and serving readers above all else. Moving away from the top-down model that has dominated the publishing process for years, we give each member of the team – including the author – a seat at the table from the very beginning and in doing so, work side-by-side to launch and sell the best content possible, making it available in a variety of forms.