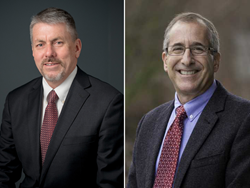 Montclair, NJ (PRWEB) March 09, 2015
This summer, Montclair State University will welcome two new deans to campus.
Dr. A. Gregory Cant, founding dean of the Offutt School of Business and Robert J. Johnson Chair in Economics and Business Administration at Concordia College in Moorhead, Minnesota, will become the new School of Business dean, effective July 1, 2015. Shortly after, the School will open a new $66 million, 143,000-square-foot building in fall, 2015. Offering undergraduate and graduate degrees to more than 2,400 students, the School is among those included in the 2014 edition of The Princeton Review's Guide to the Best 295 Business Schools.
Dr. Robert S. Friedman, current director of the Institute of Technology at the University of Washington's Tacoma campus, will serve as dean of the College of Humanities and Social Sciences. His appointment also takes effect on July 1, 2015. With a total undergraduate and graduate enrollment of more than 5,200 students, the College of Humanities and Social Sciences is the largest of Montclair State's six colleges and schools.
Gregory Cant to Spearhead School of Business Growth
As dean of the Offutt School of Business at Concordia College, Cant worked with key constituents to transform Concordia's business program into a comprehensive business school. Under his stewardship, the Offutt School established a comprehensive new curriculum, grew its faculty and staff, developed new initiatives and programs and raised more than $56 million.
"Greg Cant has the bold academic vision, substantial leadership experience and broad global perspective to spearhead the School of Business' growth and national and international recognition," said Montclair State University President Susan A. Cole.
Cole noted, "With this outstanding leadership team and the School's new state-of-the-art building, the School of Business stands on the threshold of a new era of dynamic business education at Montclair State."
"I am profoundly honored to be offered the opportunity to lead the School of Business," said Cant. "With its excellent faculty and staff, innovative programs and exceptional new facility, the School is well positioned to deepen its reputation and fulfill its mission to develop talent for a changing world."
Cant has held positions as a faculty member, administrator, faculty senate leader, department chair and academic dean at two research-intensive universities, a regional state university and a selective private liberal arts college. He also served as a professor in Guangdong, China. He has worked in the United Kingdom, as well as in his native Australia.
Cant's research interests include cross-cultural management, particularly in China, business ethics and business pedagogy. He received his PhD and undergraduate degree from the University of Western Australia and his master's degree from Queen's University in Ontario, Canada.
Robert Friedman to Advance College of Humanities and Social Sciences Mission
Prior to joining the University of Washington in his current capacity, Friedman held administrative and faculty positions at New Jersey Institute of Technology that included serving as the associate dean in the College of Computing Sciences and associate dean for liberal arts in the College of Science and Liberal Arts. While at NJIT, he also held positions as both associate chair and chair of the Humanities Department, as well as program director for the department's BS in Science, Technology and Society.
"Rob is an accomplished scholar, an able administrator and an innovative leader who will advance the College of Humanities and Social Sciences' core commitment to providing an outstanding liberal arts education with focused preparation in a wide range of disciplines and professional areas," said Cole.
"I'm thrilled to be able to join Montclair State as its next dean of the College of Humanities and Social Sciences," said Friedman. "The personal significance of this appointment is rooted in my professional and scholarly commitment to the humanities as the focus of a liberal education, as well as to the frames of thought and action provided through the social sciences."
For Friedman, the appointment offers an exciting opportunity. "I'm eager to return home to New Jersey and work with new colleagues and students – New Jersey's future leaders – to take the College further along its path of excellence, develop new interdisciplinary programs that respond to the needs of the state and interests of students, and solidify the position of the humanities and social sciences as central to the University's mission," he explained.
Friedman received his PhD in American Literature from the City University of New York's Graduate Center, and his master's degree in Information Systems at NJIT, where he was a founding faculty member of its Information Technology program.
Friedman's research portfolio includes more than $7.5 million in extramural funding, four books – including a 2013 volume on literary ecology in American Literature – numerous journal articles, book chapters and conference presentations.
He has held leadership positions in the Association for Computing Machinery's Special Interest Group for IT Education and was elected chair in 2012. He is an ABET commissioner and has led accreditation review teams for programs in Computer Science, Information Systems and Information Technology. Friedman is an associate editor of ACM Inroads, an online journal dedicated to computing education.
Montclair State University:
Building on a distinguished 106-year history, Montclair State University is proud to be a leading institution of higher education in New Jersey. The University's six colleges and schools serve over 20,000 undergraduate and graduate students in more than 300 doctoral, master's and baccalaureate level programs. Situated on a beautiful, 250-acre suburban campus just 14 miles from New York City, Montclair State delivers the instructional and research resources of a large public university in a supportive, sophisticated and diverse academic environment.
montclair.edu