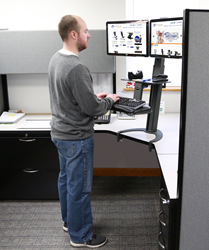 The fact that the TaskMate Go can improve worker efficiency and productivity is one reason why Midwest Computer Accessories has decided to showcase the ergonomics product at the upcoming March 2015 safety conference
Burnsville MN (PRWEB) March 11, 2015
Ergonomics workplace solutions designer, HealthPostures's popular TaskMate Go will be on display at the Indiana Safety and Health Conference and Expo. Midwest Computer Accessories, a major HealthPostures' dealer, will showcase the TaskMate Go at the safety conference.
The fact that the TaskMate Go can improve worker efficiency and productivity is one reason why Midwest Computer Accessories has decided to showcase the ergonomics product at the upcoming March 2015 safety conference. As Midwest Computer Accessories shares, "Our primary focus is in providing solutions that increase productivity and efficiency, creating an ROI for our customers."
Expertise areas that Midwest Computer Accessories specializes in are "data center and computer room products, technical furniture solutions, including security consoles and testing stations." Chief among the company's specialty items are safe ergonomic office products. It's these products that echo this year's Indiana Safety and Health Conference and Expo theme "Safety is Your Pot of Gold."
Concerning safety and usability, the TaskMate Go is adjustable, sleek and cost effective. Unlike other standing desks, the TaskMate Go arrives fully assembled, saving organizations setup costs and time. Additional features, including safety advantages, associated with the ergonomics product include the ability to adapt to fit a diverse range of computer monitors, auxiliary work surface, secure locks, standard and corner cubicle design and ability to use a below the waist keyboard.
With larger numbers of employers placing a preeminence on improving worker safety and wellness levels, the TaskMate Go is attracting leaders in the healthcare, government, call center and private exchange markets. This could be because the TaskMate Go has been associated with reduced worker neck and back pain. Conference attendees will have the opportunity to try out the TaskMate Go firsthand.
Keynote speaker at the Indiana Safety and Health Conference and Expo is David Wolf, an American astronaut, electrical engineer and physician. In addition to the keynote address, there will also be workshops, a general session, educational sessions and safety process meetings. Topics on the agenda focus on environmental and fire protection, safety objectives and concepts, the costs of advancing a safety culture in healthcare and safety and wellness. Among the conference sponsors and partners are Gibson, 3M, Indiana University School of Public Health, AISIN, Community Employer Health and the Indiana Chamber of Commerce.
About HealthPostures
HealthPostures LLC (https://healthpostures.com) builds ergonomic and rehabilitative furniture and equipment that helps people to stay healthy while they work. The firm has been designing and manufacturing ergonomic sit stand solutions since 1996. Part of the company's mission is to "strive to provide quality products that will help transform your sedentary life so you have a healthy way to work." Healthy office solutions sit stand products Health Postures designs and manufactures include dual monitor sit stand work stations, monitor arm accessories, adjustable mouse stands, dual Stance move seat extensions, industrial surface Taskmates and Stance Move chairs.
Contact:
HealthPostures LLC
14310 Ewing Avenue South, Suite 100
Burnsville, MN 55306
800-277-1841
https://healthpostures.com
About Midwest Computer Accessories
Midwest Computer Accessories was founded in 1982. Headquartered in Indianapolis, Indiana, the company serves customers who are located throughout the United States. Data center, computer room, ergonomic office work solutions and technical furniture solutions the company's expertise areas. Markets that Midwest Computer Accessories serves range from government and healthcare to utilities, financial services and education.
Contact:
Midwest Computer Accessories
850 S. Meridian Street
Indianapolis, IN 46225
800-366-4393
http://www.mca-midwest.com
Sources:
http://www.insafetyconf.com/
https://healthpostures.com/
http://www.mca-midwest.com/