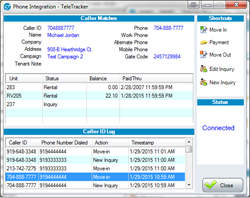 Our customers now have a single source for management software and payments processing," said Markus Hecker, SiteLink's Chief Operating Officer.
Raleigh, NC (PRWEB) March 09, 2015
SiteLink continues to lead the global industry for self-storage software as it presents new products in its market-defining software suite at the 2015 SSA Spring Conference & Trade Show on March 11-13, 2015 in Washington, D.C.
True to their mission of continued innovation and setting the "industry standard," SiteLink adds SiteLink Merchant Services™ , SiteLink eSign™ and TeleTracker into its award-winning and feature-rich suite of software products.
SiteLink customers now have an integrated credit card payment solution in SiteLink for tenants paying at stores and on stores' websites. Storage operators eliminate third-party gateways by processing credit card payments directly through SiteLink Merchant Services™, reconcile using consolidated statements and receive a single deposit for all bank cards. SiteLink's EMV integration will help operators with the October 2015 liability shift and PCI compliance. With a client base of more than 11,000 stores, SiteLink has the pricing power to pass savings on to customers, provide liability protection and deliver greater security with SiteLink's PCI DSS Level 1 and SOC 1 Certifications.
"Our customers now have a single source for management software and payments processing," said Markus Hecker, SiteLink's Chief Operating Officer. "SiteLink Merchant Services™ follows the most stringent level of security. Owners reconcile payments faster with one deposit and one consolidated statement for major card brands, including American Express."
SiteLink Merchant Services™ offers great rates and service – with transparency and full disclosure of fees. The integration of SiteLink Merchant Services™ helps to afford owners the best qualified rate. SiteLink's experienced, in-house support team makes boarding and service fast and simple.
To integrate services further and reduce operating costs, SiteLink introduced eSign™. Owners eliminate the cost of paper, printing and document storage using SiteLink eSign's electronic signature and document archiving.
At no additional cost, SiteLink eSign™ brings more rentals because tenants sign leases anywhere, including on stores' websites. Owners convert more reservations to rentals online using SiteLink eSign™ – complete with a signed lease that is automatically archived until seven years after the tenant vacates. SiteLink eSign™ allows for much faster lease audits on any computer.
"As more consumers research and purchase goods online, rentals on storage websites will only increase," said Yvette Apodaca, SiteLink's Marketing Manager. "SiteLink eSign™ gives tenants and owners confidence in online rentals. At the store level, tenants sign leases on touch screen monitors or mobile devices including tablets and smartphones. Unlike other services, SiteLink eSign™ is included in SiteLink Web Edition™ at no additional cost and easy to deploy."
A third integration, TeleTracker, measures phone call activities to give owners a complete analysis of marketing efforts. SiteLink TeleTracker logs each call, caller ID, tracking number and manager activity. Incoming calls produce a pop-up screen in SiteLink Web Edition™, instant background about the customer and one menu for managers to complete next steps. TeleTracker's pop-up screen lets managers assist callers by adding or converting reservations or entering payments with a single click.
"TeleTracker provides more than just instant call analysis," said Yvette Apodaca. "Managers convert more calls to rentals by knowing more about each caller. TeleTracker analyzes the effectiveness of tracking numbers, origin of calls and conversion rate of calls to rentals. Together with SiteLink's unique marketing questions, exit surveys and TOTAL CRM, TeleTracker now completes the 360 degree view of a store's marketing investment."
Attendees at the 2015 SSA Spring Conference & Trade Show will learn more about SiteLink's latest tools by visiting the SiteLink booth #331 and SiteLink Merchant Services™ booth #330.
About SiteLink
Founded in Raleigh, North Carolina in 1996, SiteLink is the most prominent smart management software in the self-storage industry with more than 11,000 stores worldwide. Feature-rich software, quality service, regular updates and user-friendly design make SiteLink Web EditionTM a highly scalable, easy to deploy favorite of single and multi-store owners including 70 of top 100 operators. At no additional charge, SiteLink integrates with more than 30 technology partners' services such as INSOMNIAC kiosks, mobile devices, websites, tenant insurance, call centers and other platforms. Powerful, built-in features like SiteLink Merchant Services™ deliver payment processing without a third-party provider. Industry-first services include TeleTracker phone integration and SiteLink eSign™ for electronic signature capture, online rentals and lease archival. Profit potential from revenue management, built-in CRM, email and text messaging remains unsurpassed.