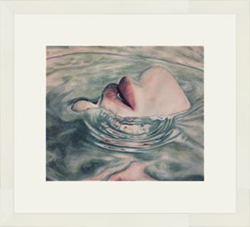 (PRWEB) March 10, 2015
Every month, American Frame, a web-based custom framing and art printing company, sponsors a contest for artists who sell and display work through American Frame's online Art Gallery. Winners are selected by customer votes on Facebook and receive a cash award and promotion through American Frame. This month's winner is painter Shelby Grubbs.
Grubbs is a recent graduate of the University of Notre Dame, having received her B.A. in Studio Art and Design. She participated in the 2013 South Bend Museum of Art Studio Residency Program and exhibited her work in the museum throughout the spring and summer of 2014. In 2010, she was awarded a Gold Key for Painting in the National Scholastic Art and Writing Awards, and the winning painting was featured in a special traveling exhibition for two years throughout the United States.
A watercolor, the winning work, "Reflection I," is part of a series in which Grubbs explores the complex, beautiful images created by water's unique reflective qualities. Here, the image captured is a hypnotic, soothing moment in which the literal and abstract meet in dialogue. Grubbs captures shades of blue and green in their amazing variety as water ripples and flows around the half-submerged swimmer. The swimmer's peachy-pink skin and rosy lips appear as eddies in the water's surface as it bends and turns in intricate response to the contours of her face.
For this piece, Grubbs recommends a professional quality paper with a two-inch white mat and a simple white wood frame such as those from American Frame's Studio or Basics lines.
To contact Grubbs or follow her work, visit her American Frame gallery and her website.
About American Frame
American Frame provides professional-quality DIY custom picture framing supplies and fine art printing services at wholesale prices direct to the consumer. Its easy web interface allows customers to design a custom frame treatment for assembly in the comfort of their homes or studios. They can also upload a digital image to be printed on canvas or fine art paper and receive framed work ready to hang. All orders are handcrafted in Maumee OH and shipped within 2 business days. Family owned and operated since 1973. Love your art. Frame it right.™