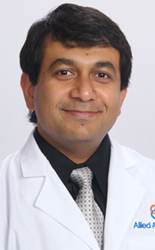 Most patients don't realize that anesthesiologists do a lot more than just put them to sleep before surgery and administer pain medication after they wake up.
Orange, Calif. (PRWEB) March 09, 2015
February was not only a time to celebrate affairs of the heart but to promote heart health as well.
Allied Anesthesia physicians observed American Heart Month by explaining their role in keeping the heart healthy during surgery and encouraging patients to work toward a healthier heart in general.
Most patients don't realize that anesthesiologists do a lot more than just put them to sleep before surgery and administer pain medication after they wake up. Anesthesiologists play a critical role in monitoring, regulating and stabilizing the heart during surgical procedures.
In addition to blocking the nerves that send pain messages to the brain, anesthesia slows the heart and causes the patient's blood pressure to drop. For someone with a healthy heart, there are usually no complications.
But if the heart is defective, especially if the defect or condition has been undiagnosed, the role of the anesthesiologist is even more critical.
Typically, anesthesiologists will review the patient's chart, interview the patient and conduct a brief physical examination to determine if there are any undiagnosed heart issues before surgery.
If the patient has been experiencing chest pain, pressure or shortness of breath, it's important that they share that with their anesthesiologist.
Allied physician Dr. Rajesh Bhat, a specialist in cardiothoracic anesthesiology, often assists during open-heart surgery or when the patient has a serious pre-existing heart condition.
"Patients also should discuss with their surgeon and anesthesiologist before suddenly stopping any medications before surgery and to make sure the anesthesiologist is aware of all the medications that they take," Bhat said.
Since Allied's recent merger with Fullerton and Upland anesthesiology groups, Allied has more cardiothoracic anesthesiology specialists than any other group in the region.
During open-heart surgery, these specially trained physicians use a state-of-the-art probe inserted into the esophagus and stomach to take detailed ultrasound images of the heart. The procedure allows them to constantly monitor the heart, to detect structural heart problems and to assess the results of the surgery while the patient is still on the operating table.
The easiest way to avoid heart issues in the first place is to follow these tips for a healthy heart:

Don't smoke.
Be physically active.
Maintain a healthy weight.
Cut fats and add more plants and fish to your diet.
Keep blood pressure below 120/80 and cholesterol below 200 milligrams/deciliter.
About Allied Anesthesia
With over 100 highly qualified physician anesthesiologists on staff, Allied Anesthesia provides adult and pediatric anesthesia services to St. Joseph Hospital of Orange, CHOC Children's Hospital, St. Jude Medical Center in Fullerton, San Antonio Community Hospital in Upland, St. Mary's Hospital in Apple Valley and many other Southern California health care facilities. In 2014, Allied Anesthesia joined with Fullerton Anesthesia Associates and Upland Anesthesia Medical Group to consolidate best practices in more than six hospitals and more than a dozen ambulatory surgery centers. The expanded medical practice is dedicated to offering the highest comprehensive quality of care and the most cost-effective procedures in all facilities they serve. All Allied physician anesthesiologists are board certified in Anesthesiology and they staff and manage the most efficient operating rooms in Southern California. Allied is a member of the California Society of Anesthesiologists, the American Society of Anesthesiologists, and the Anesthesia Quality Institute.
For more information, visit: http://www.alliedanesthesia.com