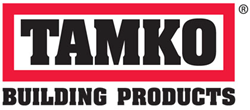 Joplin, MO (PRWEB) March 10, 2015
TAMKO Building Products introduces the EverClip™ hidden fastener for use with EverGrain® and EverGrain® Envision® Grooved Deck Boards. EverClip provides a fast, easy and secure way to install two of TAMKO's popular composite decking offerings.
EverClip features a serrated edge to provide lateral holding power to help prevent board creep and movement. The screw and clip come pre-assembled for a quick install.
EverClip will be available in two package options – a 900 count bucket that covers approximately 500 square feet and 90 count boxes which cover approximately 50 square feet.
About TAMKO
TAMKO® Building Products, Inc. is one of the nation's largest independent manufacturers of residential and commercial roofing products (including Heritage® Asphalt Shingles and MetalWorks® Steel Shingles), decking and railing products, waterproofing, cements, and coatings. Since 1944, TAMKO's success is the direct result of teamwork and enduring relationships with customers, suppliers and employees. Privately owned, TAMKO is committed to producing top-quality products with excellent product support. For more information about TAMKO, visit our Web site at http://www.tamko.com.