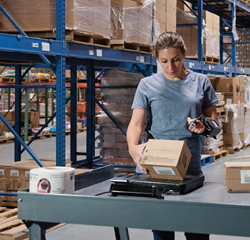 Our solutions put mobile order fulfillment and shipping technology into the warehouse staff's hands and enable them to move to where the work is."
Schaumburg, IL (PRWEB) March 12, 2015
Advanced Distribution Solutions, Inc. (ADSI) announced today that it will be demonstrating its latest line of mobile order fulfillment and shipping software solutions at the upcoming Promat 2015 Show, March 23 – 26, 2015 at McCormick Place South in Chicago, IL. ADSI will be demonstrating its new solutions in Booth #4170.
Robust Order and Shipment Software on Lightweight Mobile Computers
"Mobile order fulfillment and shipping solutions are the focus for cost and service improvements in 2015 and beyond," said Bob Fischer, president and CEO of ADSI. "Today's shippers are finding that the best way to drive lean distribution operations is through mobilizing their warehouse staff to wherever they're needed most, whether in order packing or shipment processing. Our solutions put the technology in their staffs' hands and enable them to move to where the work is."
ADSI will be demonstrating its order fulfillment and shipping software on a range of handheld mobile computers, ring scanners and wrist computers. These solutions, which include scan-based order packing and tracking, enable workers to accurately pack, verify and ship orders in seconds.
Also Introducing Size-IT - Digital, Mobile Dimensioning Tool
In addition to unveiling its mobile order fulfillment and shipping solutions, ADSI will also be demonstrating its Size-IT wireless mobile dimensional weight calculator at the show. "The new rules for dimensional rating mean that shippers, 3PLs and carriers need a fast, convenient way to accurately capture dimensional measurements. Otherwise, unnecessary shipping costs can quickly add up," said Fischer. "Size-IT, our new mobile digital dimensioning tool, solves this problem for shippers in the warehouse or by drivers who are picking up customer shipments."
According to Fischer, ADSI has developed its next-generation mobile logistics solutions as a result of continued collaboration with its large customer base of manufacturers, distributors, online retailers and third party logistics companies. "We spend a tremendous amount of time visiting our customers and exchanging ideas to improve their operations," he said. "As a result, you can be sure we're delivering technology that is truly designed to solve 'real world' problems and generate a tangible ROI."
About ADSI
ADSI is an industry-leading provider of flexible logistics software solutions for manufacturers, distributors, online retailers, third party logistics providers (3PLs) and others. ADSI's solutions include Pack-IT, a mobile, scan-based order fulfillment solution, Ship-IT™, a multi-carrier shipping software solution for domestic and export shipping, SaaS shipping software, as well as modules for asset and inventory tracking; shipment consolidation, delivery tracking; dimensional weight calculation, mobile computing and more. ADSI is a Premier Zebra Technologies Partner, a ConnectShip® Platinum Partner, a FedEx Top National Solution Provider, a UPS Ready Certified Partner, a U.S. Postal Service Top National Partner and a Motorola Elite Level Channel Partner.