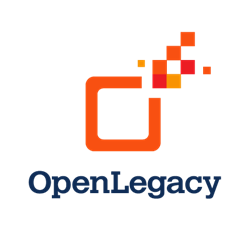 "Reliable legacy solutions are here to stay; The challenge is to help the 'grandaddy of all IT systems' to be compatible with today's requirements for mobile, Web and cloud integration, and this is where OpenLegacy fits in." - Romi Stein, OpenLegacy CEO
Princeton, NJ (PRWEB) March 10, 2015
Answering the need for a quick, easy modernization solution, OpenLegacy (http://openlegacy.com/) is announcing the global roll-out of its open source platform that helps enterprises integrate their legacy IT systems with mobile, Web and cloud applications.
As part of its official global launch, the company has opened offices in the New York area, and expanded the US-based management team with chief operating officer, Hans Otharsson, and senior vice president of sales Rolin Zumaran, both previously vice presidents at Software AG.
OpenLegacy is a standards-based open source development platform, which any developer can download and immediately start transforming and deploying legacy into modern
applications in a DIY manner, at no cost. The OpenLegacy Pro edition is subscription based, and includes management features, security, support and high availability options.
Consumers and employees have become accustomed to having anytime/anywhere access to all types of information, through mobile devices, Web or cloud applications. Yet modernizing legacy systems to meet this demand – either by extending with new software, or replacing them outright – can be expensive, complex and time consuming. Until now, CIOs have had to choose between leaving the legacy system as is, or embarking on a pricey multi-year modernization project.
For executives that are stymied by the risks, time and costs of traditional legacy modernization approaches, OpenLegacy's API-based platform offers immediate benefits. Significantly, it can be implemented in a matter of days instead of weeks or months. The new platform will meet a growing demand in the global market for an easy, cost-effective solution to the challenges of legacy modernization.
"Reliable legacy solutions such as mainframes and IBM System i – formerly known as AS/400 – are here to stay; they process billions of critical transactions per day, such as credit cards and bank transfers," said Romi Stein, OpenLegacy's CEO and co-founder. "The challenge is to help the 'grandaddy of all IT systems' be compatible with today's requirements for mobile, Web and cloud integration, and this is where OpenLegacy fits in."
OpenLegacy will be exhibiting at several upcoming industry events, including the Wisconsin Midrange Computer Professional Association Spring Technical Conference, March 10 - 12, 2015 in Delavan, WI; the Northeast User Groups Conference, March 30 - April 1, in Framingham, MA; and COMMON's largest educational event of the year, April 26 - 29, 2015, Disneyland® Resort in Anaheim, CA.
About OpenLegacy
OpenLegacy enables enterprises to quickly and rapidly extend and transform legacy systems such as IBM System i (formerly AS/400), mainframe and database to the web, mobile and cloud. A standards-based open source development platform, OpenLegacy lets developers solve high impact business problems quickly, giving enterprises a new agility and opening the door to creative new solutions at a low cost and with a high success rate. OpenLegacy is a trademark of OpenLegacy Inc. All other registered trademarks or trademarks are property of their respective owners.