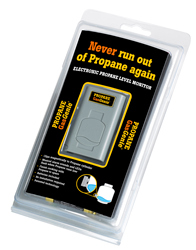 We hope that people have as much fun devising a Limerick as we did.
(PRWEB) March 10, 2015
Limericks have long been a traditional US way of having a bit of fun. They are always amusing and sometimes a bit naughty.
So CEP decided to join in the fun by running a competition for the best Limerick that is related in some way to BBQs. The prizes (there will be five winners) will each receive a prize of a Propane GasGenie. Anyone interested can enter by going to the product's Fun and Games page.
One classic example of a Limerick is:
There once was a man from Nantucket
Who kept all his cash in a bucket.
But his daughter, named Nan
Ran away with a man
And as for the bucket, Nantucket.
CEP tried themselves to write a BBQ related Limerick and came up with:
There once was a woman called Sue
Who liked food from a Barbecue
When the gas ran out
She started to shout
'It wasn't my fault, it was you!'
But they are convinced that the American public, whether regular BBQ users or not, will be able to do much better. The winners will be selected by votes received from the public on the product's Facebook Album Page. The top three as shown by the number of votes will each get a prize. CEP itself will choose the limerick they like the best and a further one Propane GasGenie will be awarded at random.
The Propane GasGenie claims to be the only propane gauge that actively warns the user in time to finish grilling and then replace or refill the tank. It was invented and designed specifically to meet a need expressed by the largest US BBQ manufacturer and has proved popular with users frustrated with the pressure gauge type, which typically give a warning of only a few minutes before the gas runs out. It has been on sale through Amazon for more than a year now and sales are growing annually.
Peter Frank from CEP says 'We hope that this competition will amuse people whether or not they are BBQ users. And we are really interested to see how creative and funny the entrants can be. And we hope that people have as much fun devising a Limerick as we did. '
The Propane GasGenie is sold through Amazon and also through several smaller distributors in the US.
About Creative Electronic Products Inc.
CEP was founded in 2013 to search worldwide for unique and useful products to bring to the US market. The Propane GasGenie is their first product. It is sold on Amazon and also to retailers and manufacturers reps throughout the US.