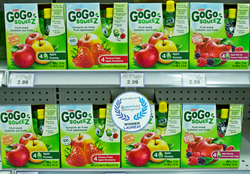 As a trusted advisor in toy and baby products, we're thrilled to partner with PTPA Media and help provide new and expecting parents and gift givers with award winning products
Toronto, Ontario (PRWEB) March 10, 2015
The leading retailer in toy and baby products in Canada, Toys"R"Us and Babies"R"Us Canada and Parent Tested Parent Approved today announced they have entered into a partnership recognizing award winning products. PTPA Media has one of the largest parent testing communities in North America comprising over 70,000 families, and is respected by consumers and the media as the go-to source for family friendly products.
"As a trusted advisor in toy and baby products, we're thrilled to partner with PTPA Media and help provide new and expecting parents and gift givers with award winning products," says Liz MacDonald, vice president, marketing and store planning, Toys"R"Us Canada. "This partnership will further allow us to provide our customers with additional insight and information to products that have been tested by parents first hand."
Recognizing the value in connecting with their shoppers who are making the purchase decisions for their families, Toys"R"Us Canada will be highlighting PTPA award winning products through in-store signage, print flyers, and online at toysrus.ca and babiesrus.ca websites. In addition, the PTPA website will also be adding a Toys"R"Us "buy now" button on award winning product pages throughout their site.
"We're excited to gain the recognition and support of Toys"R"Us and Babies"R"Us Canada," says Vinderine. "The PTPA seal is a trusted trademark that represents the voice of tens of thousands of parents who have field tested products with their families. This partnership will give consumers further guidance when making choices about what's best for them."
About PTPA Media Inc.:
PTPA Media provides an objective framework for appraising new products designed to enrich family living. The company's mission is to provide families with a credible source of objective feedback when making their purchasing decisions for their families. PTPA is recognized by the media across North America as a leader in the family awards industry and their community of parent testers exceeds 70,000 families. The PTPA Seal of Approval is a recognized objective certification that is used by thousands of products and can be seen on product packaging, television commercials and online and printed flyers.
About Toys"R"Us, Canada:
Toys"R"Us (Canada) Ltd and Babies"R"Us (Canada) Ltd are part of Toys"R"Us, Inc., the world's leading dedicated toy and baby products retailer. Toys"R"Us, Canada operates 81 full-sized stores across the country. For store locations and convenient online shopping visit Toys"R"Us and Babies"R"Us.