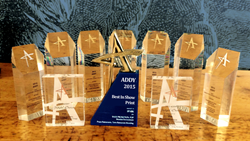 Lehigh Mining & Navigation produces campaigns that are comparable to any top agency in the nation and the recognition we receive is a reflection of the talent on our staff
Bethlehem, Pa. (PRWEB) March 09, 2015
Lehigh Mining & Navigation (LehighMiningAndNavigation.com), the area's premier advertising and public relations agency, won 10 awards at the 15th annual Lehigh Valley ADDY Awards held on March 6 at the Allentown Brew Works. A total of 33 professional awards were handed out at the show and Lehigh Mining & Navigation nabbed more than any other agency.
The 10 awards included a Best of Show award (the agency's third in the last six years), five Gold ADDYs, two Silver ADDYs and two Judges' Choice awards. An independent three-person panel chose the winners from 163 entries submitted to the Greater Lehigh Valley Ad Club.
"We put everything we have into our work and to see that effort rewarded with our most successful year ever at the ADDYs is really satisfying," said Denis Aumiller, managing partner at Lehigh Mining & Navigation. "Lehigh Mining & Navigation produces campaigns that are comparable to any top agency in the nation and the recognition we receive is a reflection of the talent on our staff."
Gold ADDYs were presented to Lehigh Mining & Navigation for the logo it developed for Torre restaurant, branding campaign for Torre, Martin String Patrol – String Notebook for C.F. Martin & Co., "Advancing Electronics" digital video for Air Products, and the Martin Journal bi-annual publication for C.F. Martin & Co. The String Notebook and Martin Journal received Judges' Choice awards and the Torre branding campaign won Best of Show - Print.
The agency won Silver ADDYs for its Hank Williams print ad and Martin Retro Strings promotional video for C.F. Martin & Co.
Work that received Gold ADDY recognition will be submitted for the district finals in New York later this month. Submissions that advance from the district finals are eligible to compete in the nationals held on June 13 in Las Vegas. In 2014, Lehigh Mining & Navigation won a national gold ADDY award for its guitar tuner mobile application developed for C.F. Martin & Co.
The ADDY Awards recognize the best advertising in a variety of categories, including interactive media, television, newspaper, public service, consumer magazine and sales promotion. The competition is a three-tiered national competition conducted annually by the American Advertising Federation, the advertising industry's largest and most representative competition for creative excellence.
About Lehigh Mining & Navigation
Lehigh Mining & Navigation is a full-service advertising agency with expertise in digital marketing, public relations and media. The agency's award-winning creative is grounded in well-developed and thoughtful strategy.
Lehigh Mining & Navigation is actively seeking new clients that share the company's creative philosophy. Interested companies can contact Michael Drabenstott at (484) 821-0920 x 704 or drabenstott(at)LehighMiningAndNavigation(dot)com